PROGRAMME FOR INDIVIDUAL DAYS OF HEALING FESTIVAL 2022
Descriptions of each individual session or performance can be found below.
Program in English is in blue box marked EN/CZ.
HEALING MAGAZINE TO DOWNLOAD HERE.
PROGRAMME FOR INDIVIDUAL DAYS OF HEALING FESTIVAL 2022
Descriptions of each individual session or performance can be found below.
Program in English is in blue box marked EN/CZ.
HEALING MAGAZINE
TO DOWNLOAD HERE.
PROGRAMME
OF HEALING FESTIVAL 2022
PROGRAMME
OF HEALING FESTIVAL 2022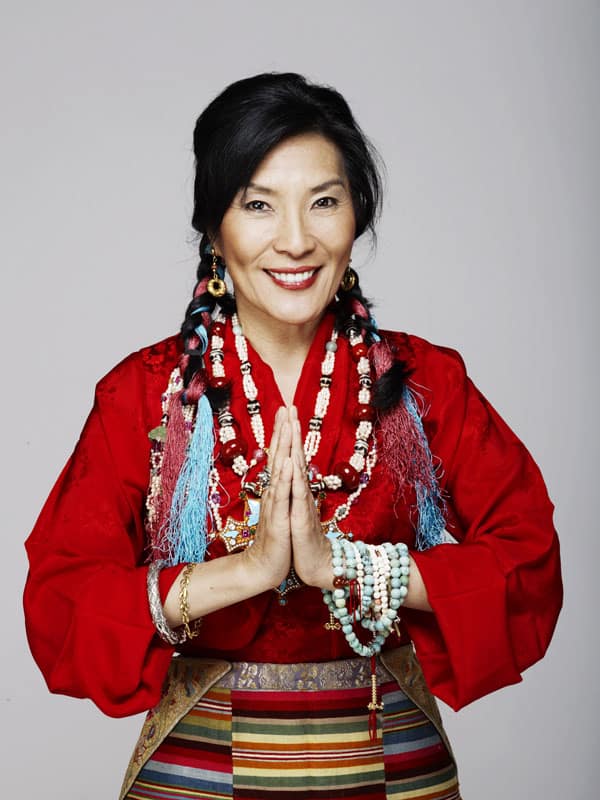 Concert
Dechen will play a concert with her JEWEL Ensemble. For this first concert in Czechia Dechen is accompanied by Helge van Dyk (her producer and composer) at the keyboard and Thomas Niggli at the Sitar. They will play Dechen's music from her various albums especially the new album 'emaho – the Story of Arya Tara'. Her music contains songs to praise the earth, the nature and the animals as well as the precious Tibetan Mantras, that carry the wisdom and healing power of her ancient Tibetan heritage.
Dechen Shak-Dagsay (NPL/CHE)
Live Set
Mose is a talented DJ & producer, and instrumentist from Guatemala known worldwide for his soulful and profound performances. His show brings the audience to the depths of dancing, chanting, and floating through music. Or rephrasing himself, "music brings the listeners to the doorstep of infinity".
Mose (USA)
Kirtan
Ecstatic mind-blowing devotional kirtan
This rare traditional art form is an ancient call-and-response mantra chanting practice, that originated in the Indian subcontinent over 5000 years ago.
Kirtaniyas with Vijay Krsna (UK)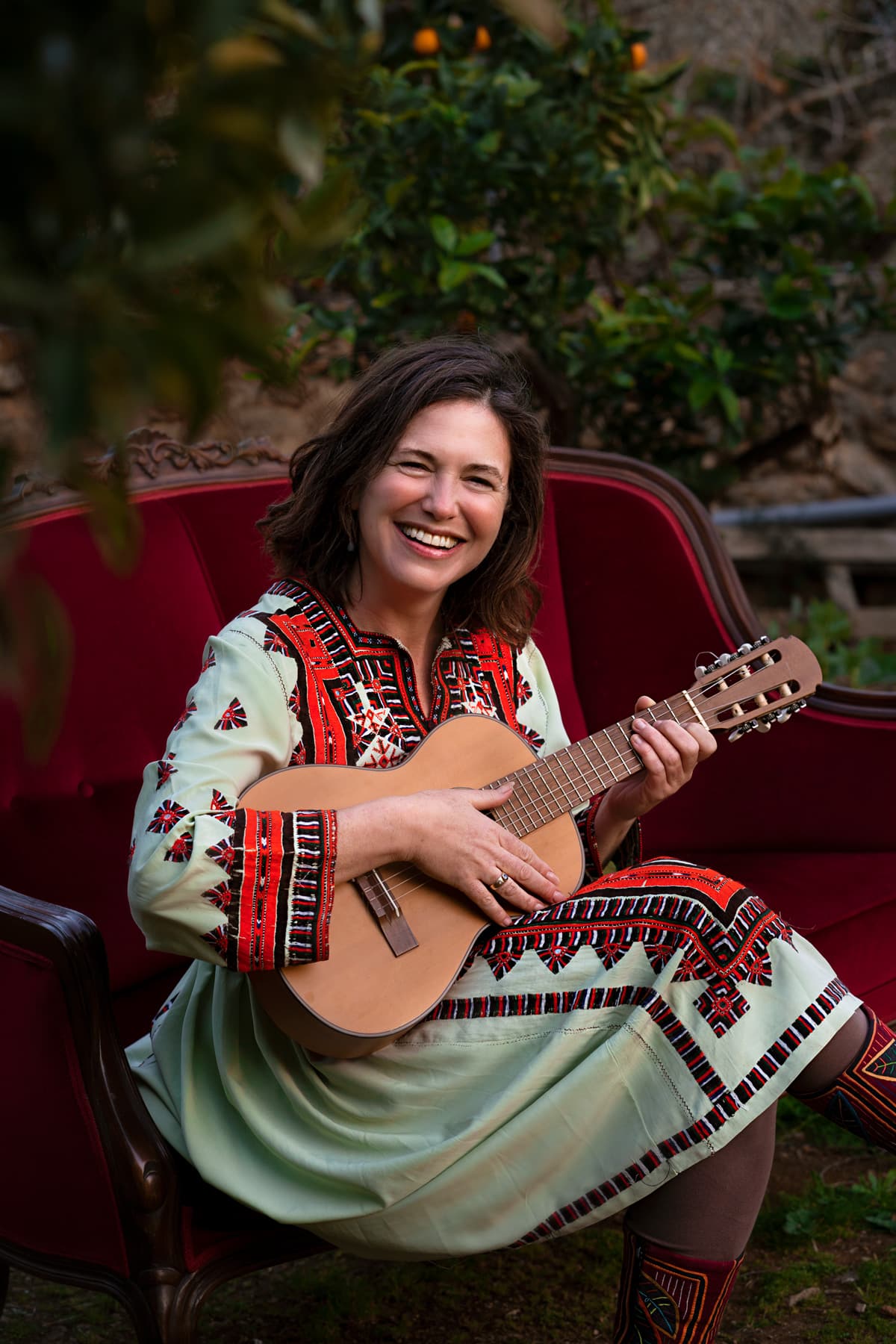 Ceremonial Concert
LAOR will breath and sing with the audience and inspire all to pray, sing and love like never before.
Laor Oman-Naharin (ISR/ESP)
Soul singing ceremony
Create a deeper connection with our heart, soul & our unique path on this earth From songs of the ancient Hebrew language to new languages that will be channeled live through us, I invite you to a ceremony of healing for the open heart. Come if you have the calling to create peace in your heart. Come if you want a warm massage for your soul. Come to release your voice, release your body. Come if you want to melt the walls of pain and fear. Come with love, come with joy, come with a friend Come alone, come as you are. Singing together back home.
Netanel Goldberg (ISR)
Concert
Featuring Multi-Instrumentalist & Producer Masaru Higasa and Vocalist Pepper Proud has often been described as timeless and unmistakable, offering a balanced synergy of both the masculine and feminine expression. Their melodious soundscapes showcase instruments from all over the world. Inspired by the Majesty of Nature their musings encompass the listener with driving and revitalizing organic rhythms, transcendent electronic production, warm soothing female vocals and heartened lyricism. ​ Their intention is to create a bridge between Nature and Humankind, an expansive experience that encourages growth and graceful passage for the hearts and minds of their listeners.
Yaima (USA)
Concert
Discovering stillness through music & self-inquiry. This is a workshop/concert that incorporates music, storytelling & self-inquiry. The listener is encouraged to inquire within, actively listen, to become curious about themselves and who they really are, beyond the limitations and conditioning of the psychological mind. Guided through the stories, energy, and lyrical content of the songs, music provides us with a space to listen deeply, to feel deeply, and to experience our "being" together. This is the opportunity to let our hair down, dance, listen, connect and enjoy the energy created from the day.
Niall Mc Guigan (IRL)
Live electronic set
Just kick off your shoes and enjoy yourself.
DJ Bunny Wabbit (CRI)
DJ Set
Sarasvati Dasi will take you on a musical journey spanning many cultures and beats from around the world, with catchy bass lines and quirky vintage remixes that will have you smiling as hard as you are dancing. Accompanied by live vocals and violin.
Sarasvati Dasi
Devotional chanting, Medicine Music
Macrocosmic Orbit is a collective of friends from the Tzununa community on Lake Atitlan who regularly host Kirtan and medicine song circles in South and Central America.
Macrocosmic Orbit (GTM)
Soundhealing - Opening the Heart Chakra
The trio HeartSounds - Melanie, Štěpán and Martin - will bring you closer to your heart with their music and activate the feeling of unity with yourself and the universe. The SoundHealing will tune you into the healing frequency of your heart and help open your central heart chakra.
Síla pro život & Martin Hybler
Concert
Terez travels as a busker through Europe and collects folk songs from all over the world. She sings in fifteen languages and also creates her own works.
Terez Wrau and Miguel
Ecstatic dance
Great music is that which carries the present minded listener to the doorstep of infinity. All music already exists - the musician is here in service to remove a bit of the veil and let some of it through into this physical space. Through the use of a steady hypnotic beat, paired with ethereal voices and melodies we can release into the void and remember who we are - we are one.
Mose (USA)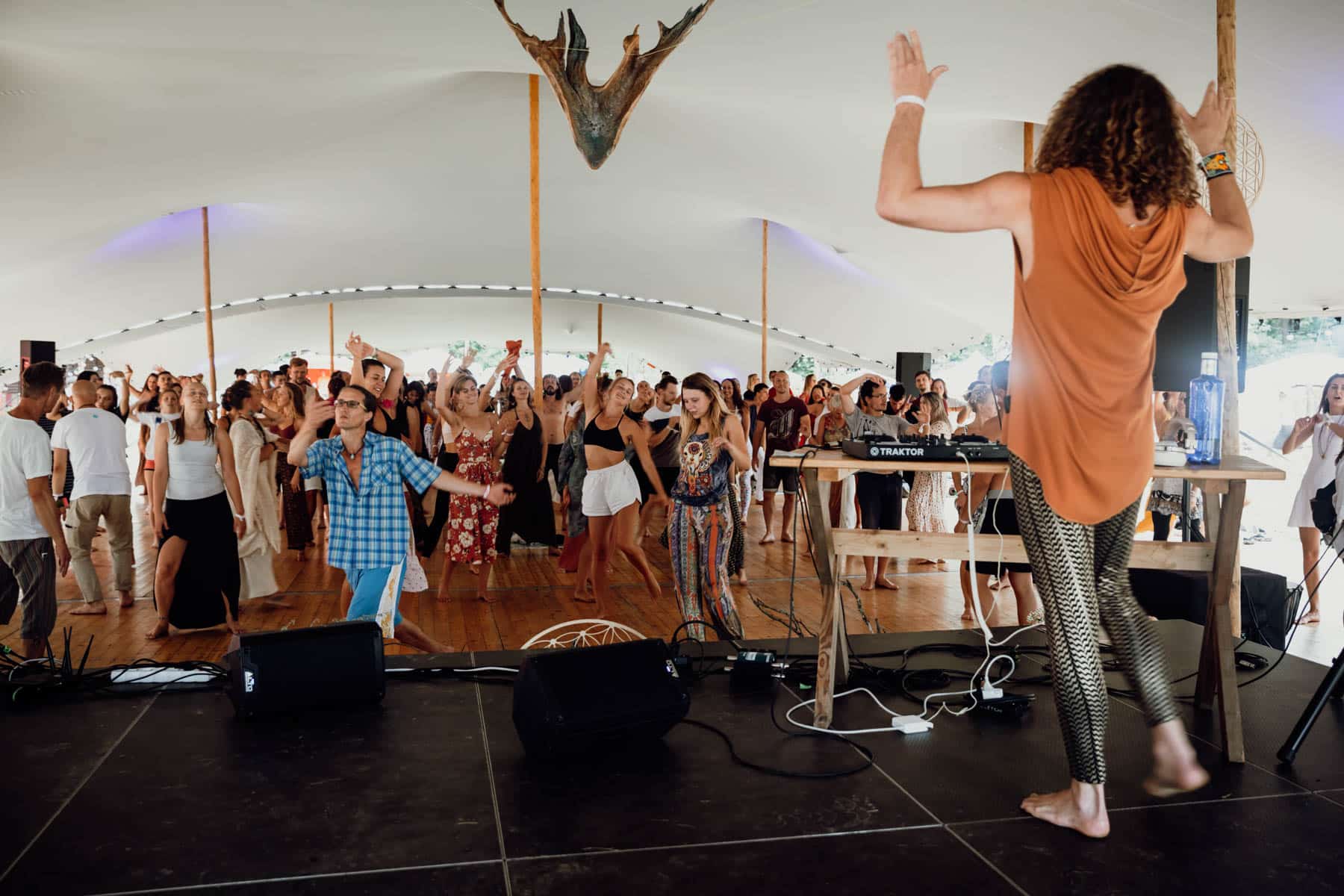 Ecstatic Dance
Swahé is a fascinating and curious artist. Our Guatemalan DJ of Ecstatic Dance is also a Kundalini Yogi and Kirtan leader and has played at main Festivals and Ecstatic Dances all around the Americas and Europe. His performance brings to stage what he calls a Kundalini Awakening Tribal Bass, a genre inspired by the Latin, Middle Eastern, and Indigenous Music present in his roots.
Joshua Swahé (USA)
Ecstatic Dance
Pascal de Lacaze facilitates deeply transformative Ecstatic Dance experiences that connects people to their spirit, their body and the other dancers. Pascal djs, uses live music elements like drumming, singing and bamboo saxophone to interact with the music and the dancers. Everything he does as an Ecstatic Dance artists is in service of the dance. Expect to fly high and ground deep.
Pascal de Lacaze (DEU)
Tribal Trance Ecstatic Dance Journey
with DJ Colibri
Together we shall Unite as a Dancing Tribe, to build Power, to share Nourishment, Energy and Inspiration… Through the Dance you are invited to Journey, to explore your Gifts, your Healing, Vision, Relationships, your Projects and Presence… To begin, there will be some guydance, some warm up, opening and connecting exercises. We shall activate our Breath and engage with our Life Force and that of the Tribe. Then the guydance is complete and you are free to explore what needs, wants and desires to be seen, felt and lived through your Dance.
Guy Barrington / Dj Colibri (UK) Ecstatic Dance
What is ECSTATIC DANCE? Imagine dancing in an environment without observers, judgments, attitudes, talking, shoes, alcohol or smoke. A space where everyone can feel spontaneously safe to try new things in dance and push their boundaries. This is the dance you do when no one is watching, the power of when we experience all kinds of emotions, that is freedom, relaxation, spontaneity, unity, joy, sadness, happiness, fear, sexuality, all in one moment of dance.
DJ Kante - Are
OMNION - Ecstatic dance
Omnion is the solo project of composer, multi-instrumentalist and tabla player Tomáš Reindl, which combines inspiration from ancient traditions of the East and West, along with approaches using techniques from the contemporary electronic scene. The common denominator here is the sacred and ecstatic purpose of music. In addition to traditional instruments (e.g. Indian tabla, didgeridoo, clarinet, trombone, overtone flute) and the use of the human voice (e.g. aliquot singing, beatboxing, rhythm recitation), Omnion employs looping, mixing, and real-time processing technologies.
DJ Omnion
Ecstatic Dance Prague
Ecstatic dance is an experience that changes people's lives.
Tom Welzl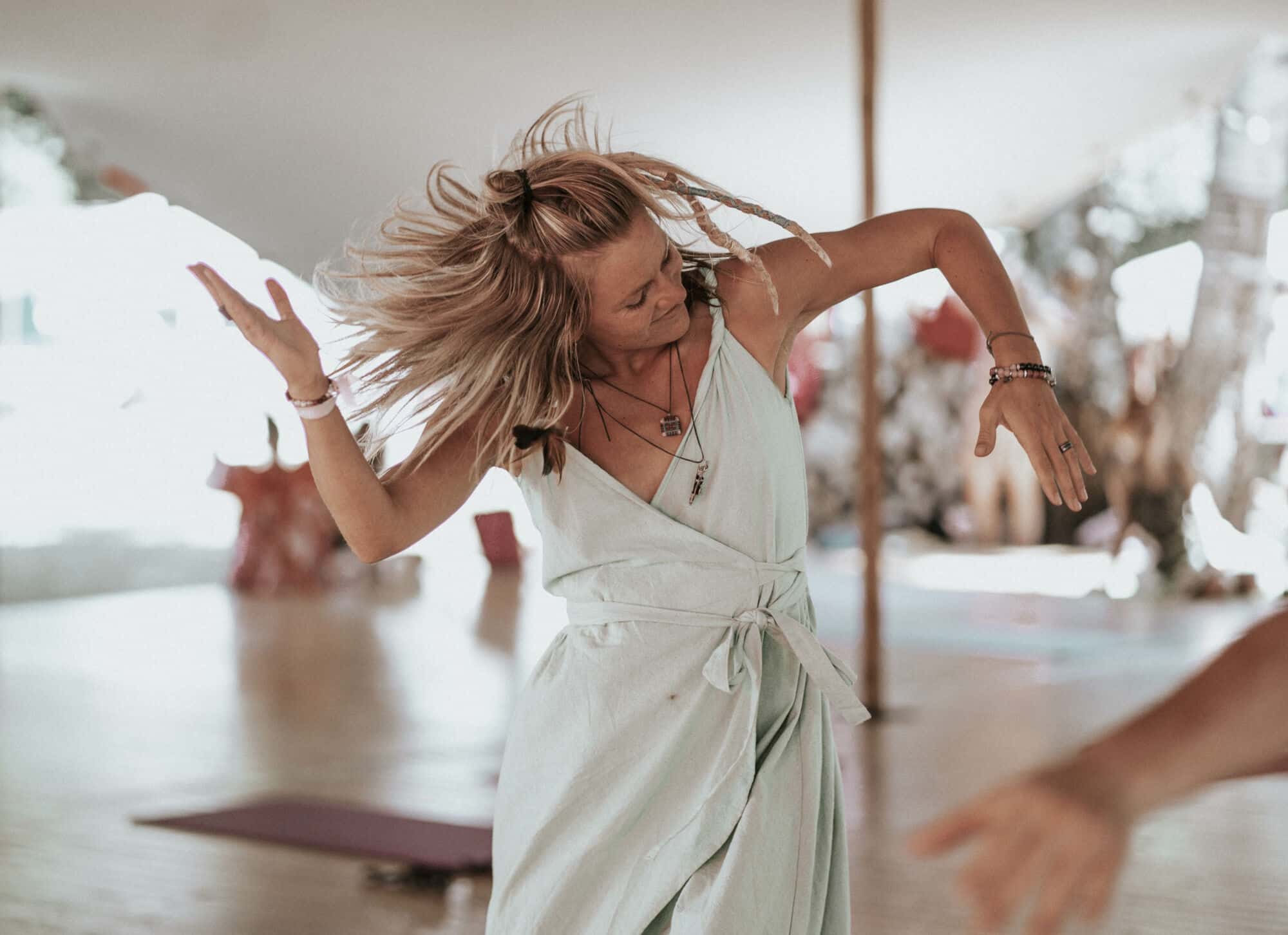 Ecstatic Dance Prague
Dj set with life singing by Lucie Aestra Prostřední and drums by Petra Vašák a Richarda Vít.
DJ Sanjay Soul
Dance & Movement Class (CBC)
Bruna believes that everybody can dance, so her invitation goes to those who feels the call and wanna explore something beyond, bringing full attention to the heart rather to the mind. This is a full embodiment practice. Contact beyond contact (CBC) practice guides you to discover your true inner voice, to create honest and genuine connections with yourself and others, and find a clear enlightened purpose in life. CBC is a practice that integrates authentic movement (AM), contact improvisation (CI) and passing through (PT) with other profound practices such as qigong, yoga, healing modalities, principles of behaviourism and energy work, mindfulness, leadership skills, proprioceptive and exteroceptive senses, somatics and the philosophies of buddhism and taoism. All of these practices are woven together to create a holistic integration of the body, mind, heart and spirit. She teaches embodiment through sacred movement, a practice of being in your body—that ignites creativity, connection, and community. Her main focus in this practice is to hold space by creating a safe-boundaries-environment in which people can integrate, transform and heal in body, mind, heart and spirit.
Bruna Bortolato (BRA/USA)
Womb Ecstasy - pleasure awakening ceremony
Dance workshop
It's time to drop everything, that's been holding you down in your life. It's time to be yourself, to feel safe and sexy in your own body and in your feminine nature and wildness. You are in for a body-transcending experience that will open your heart, your yoni and your wildness. You will learn how to open yourself to ecstasy and its creative power through your body, from which you will then be able to draw in all areas of your life where you need. I am not your guru. I will not provide you with body-transcending orgasms. I will not change your attitude towards your body. I'm not going to awaken your self-love. I will not crown you with the title of a conscious woman. I will not make you feel your self-worth. I'm not gonna make you a wild, untamed, confident woman. But I will lead you to the guru within you so that YOU can do the above.
Michaela Aira
Čtyři živly a já
Dance ritual
Through dance, we will explore the energy of the four elements, inviting them together in a ritual circle and talking about their qualities and how they can influence us. Air, fire, water and earth are part of us and we are part of nature. As above, so below. As inside, so outside. When the four elements dance and work together, they create that fifth element within us. The magic of connecting with that which is greater than us.
Barbora Zemanová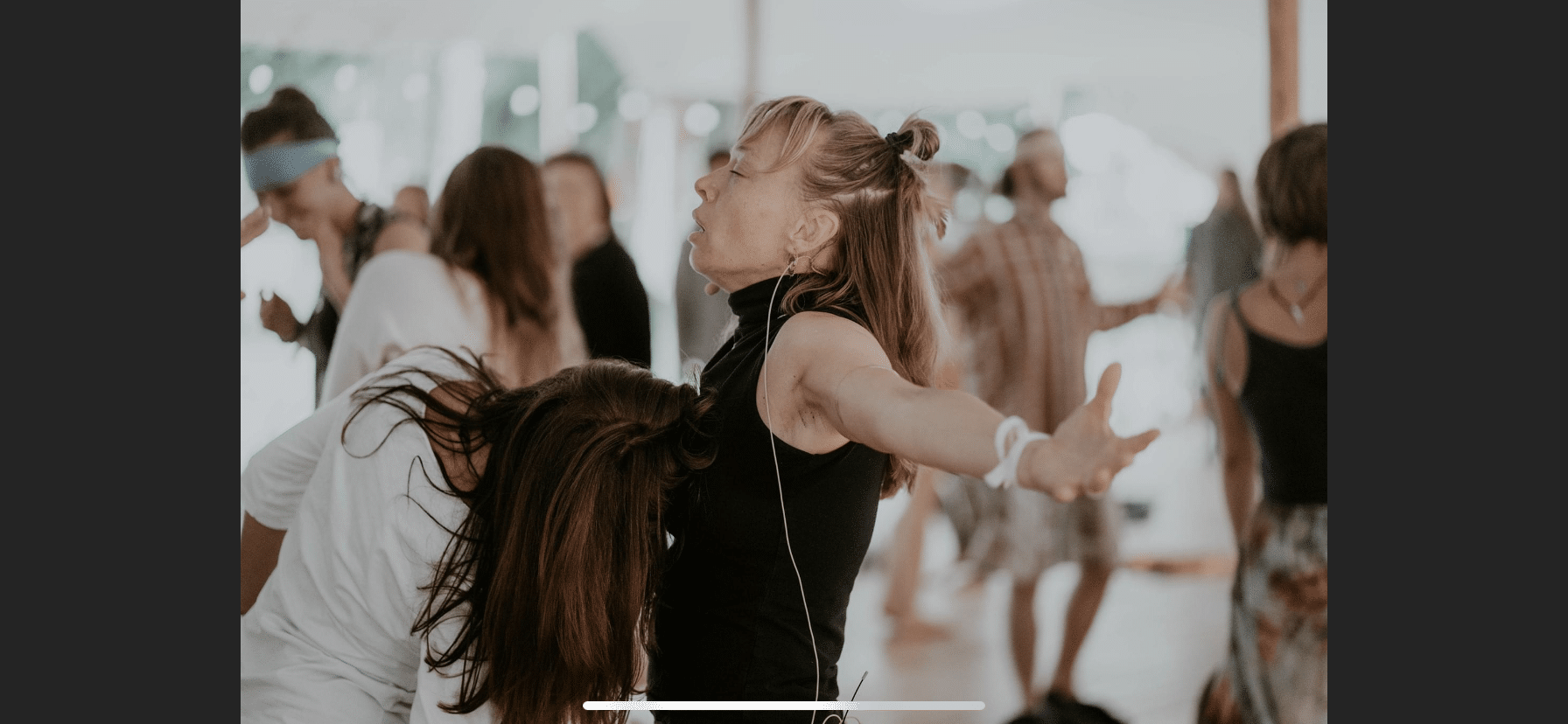 Tanec pěti elementů - "Pancha Maha Bhutas"
Intuitive dance and mindful yoga
Come and have some fun, move your body, relax and laugh. Gentle yoga will get us in touch with body and soul. Through intuitive dance we will tune into the basic elements of "Pancha Maha Bhutas": water, fire, earth, air, ether. In the spirit of Ayurveda, you will discover which forces control your life and which ones you need to replenish. Qigong teaches us how to work with the power of the elements. At the end we will enjoy peace and relaxation in a guided meditation. This session brings movement, relaxation, self-knowledge and joy.
Šárka ALAYA Kačabová
Taneční Intimní Ženský Kruh
"Inhale through the nose, exhale through the mouth with a relaxing sound" "What can you do for yourself now to make yourself more comfortable?" "What's next, what's in there next?!" ...you will hear many times during this spontaneous dance workshop. As well as great, precisely chosen and skillfully compiled music, joyful screams or mournful crying and beads of sweat falling onto the dance floor. You will meet yourself in a form you may not know or you may be afraid of. You will meet other women in a form you might not expect or could easily condemn them for. We will meet in a collective movement, with a collective breath. Each alone with herself and yet together. We'll meet in the Intimate Women's Dance Circle.
Lucie Bečková
Kouzlo uvolnění
Dance workshop
The magic of relaxation for women - together with music, movement, voice and breath, we will tune in to our female body. We will gently dissolve and release the shells of tension that prevent us from feeling more of ourselves and opening into love.
Marie Grace
Probuď život ve svém těle
Dance workshop
In a common rhythm, in connection with the melody of our hearts, we are on a journey to stir the energy of vitality, creativity, sexuality and transcendence.
Marie Grace
Tance univerzálního míru
Through circle dances and mantras from different parts of the world (Maori, Indian, Middle Eastern, Native American...) we will tap into our inner guidance and let our true Self shine through more. The dances are simple and each one is easy to learn. The guitar will be played by Honza Kuželka, who is one of the best musicians in Europe playing for these dances.
Zuzana Préma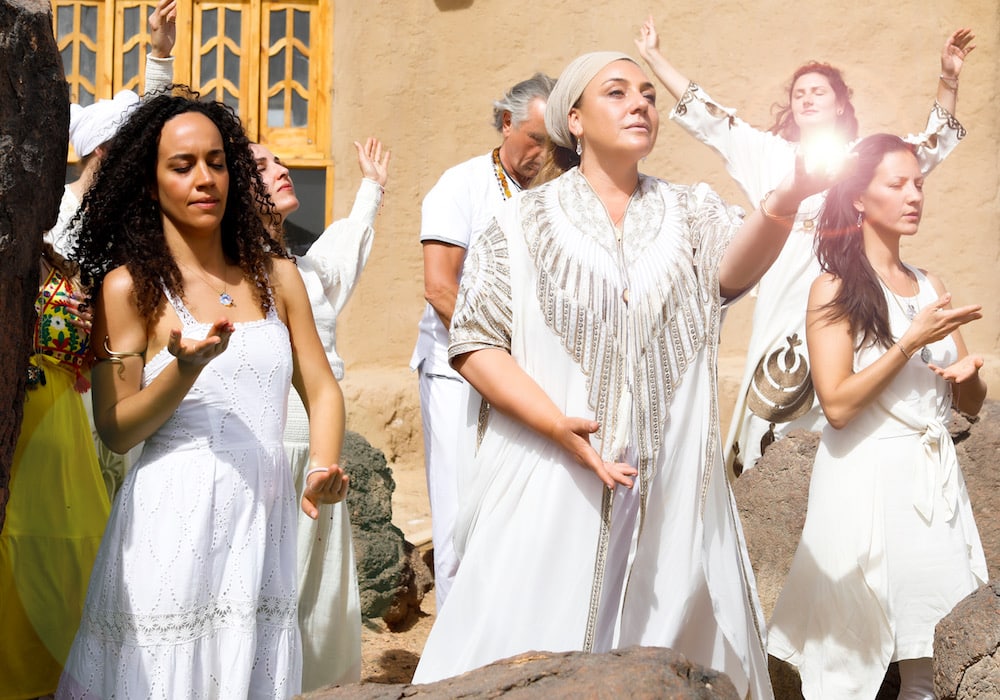 Source Light Healer DNA Activation
Opening ourselves to Source and the infinite possibilities of Healing through it. You will experience to be guided into the powerful Source Healing field and receive a deep clearing of ancestral and cultural programmed patterns. An introduction into the Healing Mystery school of Source Light Healing. All are welcome, experienced healers or anyone interested in experiencing a potent healing field. Through sharing wisdom codes of Source knowledge and transmission we will dive into the unified field of the void where all things are possible.
Za Rah Kumara (DEU/GRC)
Cacao Ceremony
Who shares this cacao ceremony? Haliama from Mexico is the creator of Cacao Amaité, a project for the expansion of consciousness through Cacao as a sacred ancient medicine. Ceremonialist woman and specialist in Mayan Ceremonial Cacao. Haliama has studied and practiced cacao with Mayan abuelos and shamans from Guatemala and she has also been guided by I'x Cacao. Cacao allowed her to integrate her work in Sacred Feminine, Meditation, Tantra Yoga, Astrology, Reiki, and Herbalism.  She has shared cacao in traditional ceremonies, workshops, and courses for years in Mexico and Europe. She traveled to Chiapas in Mexico and @cacaoamaite was born there. She currently collaborates ethically and directly with families with small cacao plantations in Southamerica and prepares this medicine with love and respect.  Cacao Amaité is already running in Mexico and now that she recently moved to the Czech Republic with her sacred partner she wants to share this project in Europe too. She knows we need Cacao as Medicine more than ever and she is here to share what she has learned on her way. Invitation to Love (Cacao) Ceremony Remembering that everything is love or an invitation to love: come, sit, breathe, open yourself and share a cup of this sacred medicine with Haliama.
Haliama (MEX)
Shamanic Journey Experience
A journey of sounds and guided activation of the Pineal gland that is similar to "Astral Journey", a tool used by Native American Indians for centuries, to find answers and receive guidance from the spirits. In this Journey you will meet your totem (power) animals, learn how to connect and communicate with them and receive messages from your inner self. Equipped by the knowledge of Shamanic wisdom, Orpheus opens the door for you to enter other dimensions. A natural release of DMT from the Pineal gland allows a way to meet with our guides, angels and spirit animals. The ceremony is accompanied by live music of drums and other instruments that connect us to natural earth vibration.
Orpheus B (CRI)
Channeling Experience
This is a guided shamanic meditation to experience channeling from a higher self. The experience will begin with shamanic breath, to achieve a semi-trance state. Later Umut Fırat will guide the participants to align our energy field and consciousness with mother earth and father sky. The spirits of light will be called out to open a sacred connection space. Participants will tune up their frequencies to receive messages from our guides and higher selves. In the final round, everyone will match with a partner in the circle to experience channeling for each other.
Umut Fırat Eroğlu (TUR)
The 5D Femme Revolution
A new era of divine feminine leadership of women stepping into their sovereign divinity and leading themselves and their queendom into the New Earth Paradigm. Including a Divine Feminine Quantum activation.
Ava Sophiana (CRI)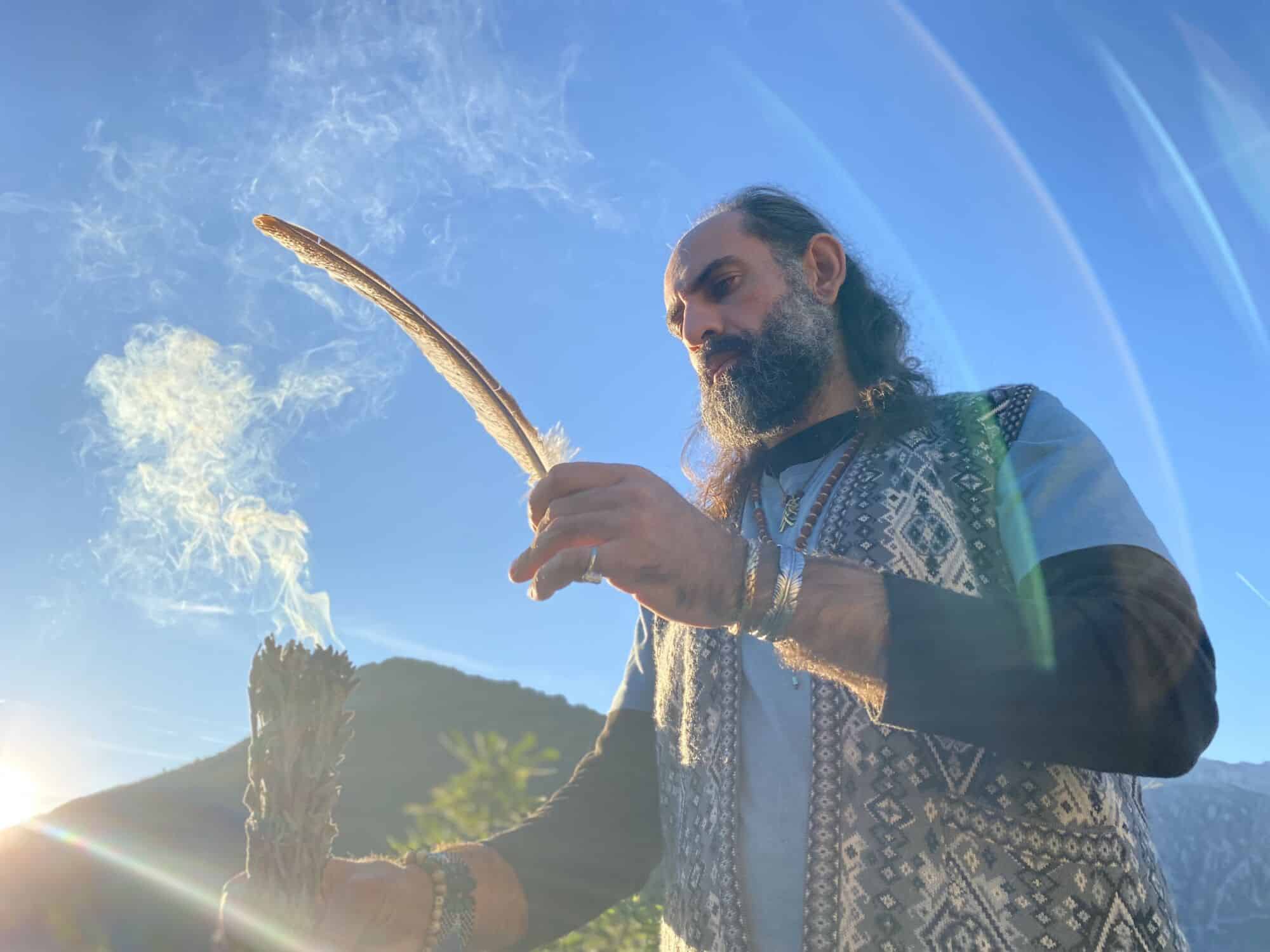 Anatolian Shamanic Journey
Anatolia, the home of Rumi, is a mystic land where shamanism and sufism is an ancient fusion of spirituality. Sufism is about opening one's heart to the divine with light, movement, wisdom and love. Shamanism is about unity, healing with the touch of nature, connection with the universe and receiving guidance from the spirits of other worlds. Umut Fırat, the Anatolian Shaman, is bringing a special journey to the Healing Festival, where participants will experience a sacred connection with Dervish ancestors and shamanic spirit of Anatolia. The whole experience will comprise of teachings, drum journey, fire meditation and heart opening Sufi whirling movements.
Umut Fırat Eroğlu (TUR)
Quantum Infinity
Recreate yourself in the space of infinite potential. Introduction to quantum creation and quantum healing. Including a Multi-Dimensional quantum activation.
Ava Sophiana (CRI)
5 sense miracle chocolate opening ritual
With this collective ritual we will open the quantum field of the Healing Festival. We will tune into the field of unlimited possibilities, miraculous solutions, synchronicities, living in ease, joy and the full support of a loving Universe and also in harmony with ourselves. Through this ritual, you will bring your personal intention into the entire Healing Festival, which you will thereby support and become aware of to the fullest. The ritual will include the creation of a communal 5th element altar, experiential activation of all elements and their connection to the Healing Festival and the Portal of Miracles. You will experience a cacao ritual, dance with chocolate, smell a variety of aromas and tune into the field of sacred geometry. And then there may be things we can't quite devise. For miracles cannot be invented, so let us be surprised together by all the synchronicities that can happen. Together, through this ritual, we will connect the Healing Festival with the Portal of Miracles, which will be created according to the principles of sacred geometry with the help of crystals and gifts of nature. This energetic place will support everyone it calls throughout the Healing Festival in accordance with their highest good, joy and harmony of their soul. It will be a field full of gentle and loving support as well as the beautiful healing and high vibrational energy of crystals connected to the five elements. The infinite, loving and supportive energy of the portal can awaken in you absolute trust and faith in the miraculousness of life and most importantly that you are the greatest miracle. That you yourself are the portal of miracles. You are the miracle! All that matters is if you allow yourself to be. This ritual will be a celebration of the miracles and life within and around us. A celebration of gratitude for life on this planet where we can be anything and do anything that is in alignment with our heart. On a planet where we have choices, where we have the opportunity to experience so much. So let's try to set ourselves up to live, grow and know through joy, gentleness and love. May miracles happen to you at every turn now. May you be able to catch them, see them, and then celebrate them. May they bring you much joy and trust already. What happens when you focus some of your attention on the miracles in your life? The answer is simple...
Zuzana Noah
Rozchodový rituál
For women
How to break up well? Can we open ourselves up to a new relationship when we don't have closure on the previous one? Is it even possible to break up in love and respect? What do we need to give up to keep our hearts free for a new relationship? Unfinished relationships will always remind us of their unfinishedness in future relationships or in the fact that no new relationship will come. Until we honour in the depths of our heart what we may have experienced with our former partner, new relationships are very complicated and the heart is not free. In this ritual suitable for women, I will guide you through a breakup ritual that can be the best start for your future relationship.
Barbora Zemanová
Soul movement medicine
Yoga with music and a ritual
At the beginning of the gathering, we will all tune into each other collectively and each to ourselves alone. We will sing together and start becoming consciously aware of our bodies. The body that we use here in the matter, the body through which everything comes to us. In this rhythm we will be guided through yoga by Tereza, accompanied by the music of Daniel. Aromatherapy is included to encourage conscious creation. ------- Body, Mind and Heart. Three units that we will let merge into one, into ourselves. Our breath will float along with our movement to the rhythm of magical music on magical instruments accompanied by Daniel Beneš. We will connect to the rhythm of nature, the universe and the lightness of being. We will return to ourselves, to the depths of the soul and our conscious essence.
Daniel Beneš a Tereza Wamberová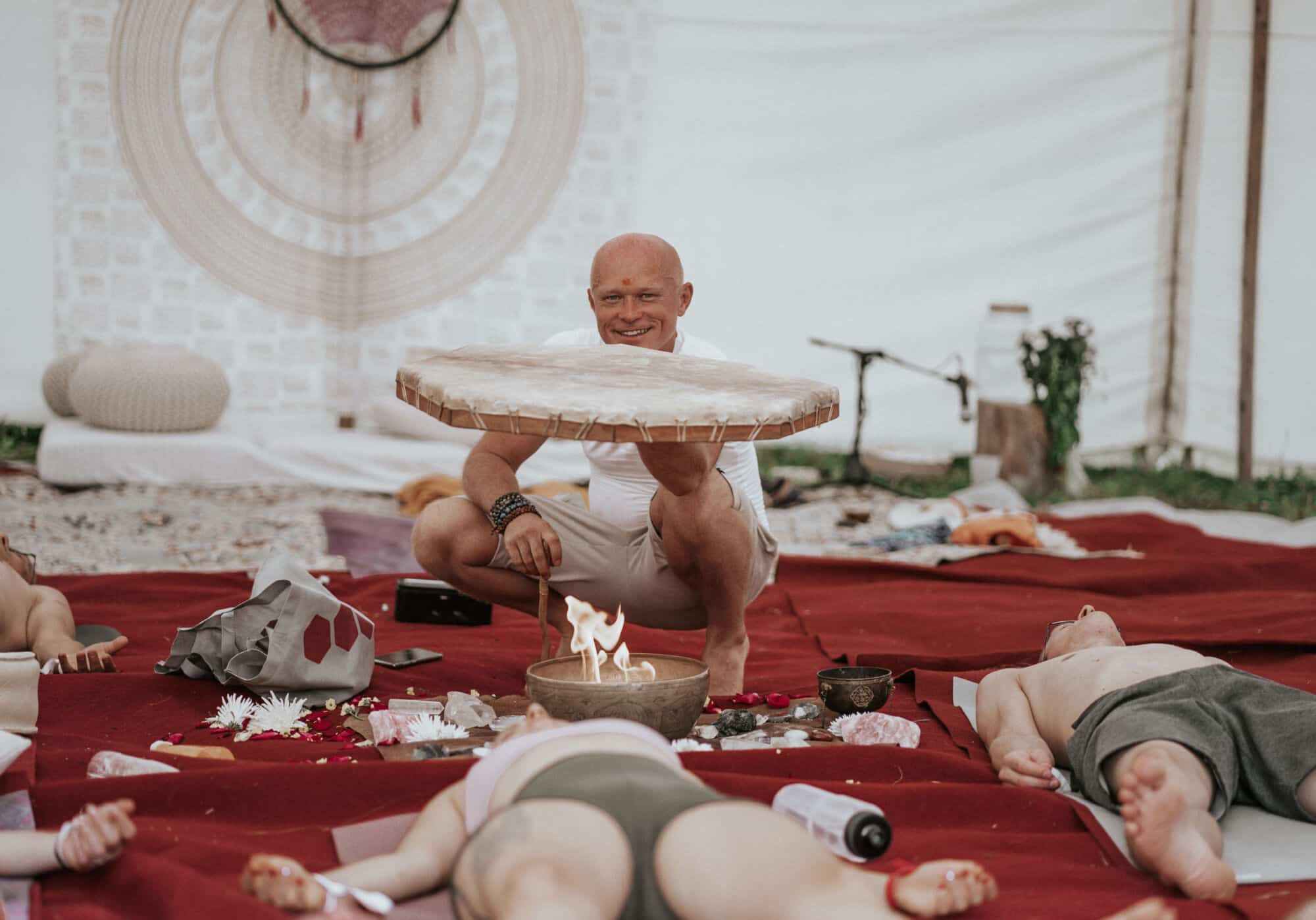 Rapé ceremonie
Rapé is a sacred shamanic herbal blend that has been used by healers along the Amazon river for thousands of years. Rapé is unique in its composition and so works on completely different parts of our consciousness and heals on all levels of our being.
Michal Rauer
Závěrečný rituál - Nový začátek
The final ritual will close the five transformational days of the Healing Festival and at the same time open your new beginning, new experience of life, new vision of situations and anchor your new vibration, new taste and joy for life. Through this ritual you will consciously step into the new reality you are calling and wanting to live and experience. You will become aware of your new alignment, your new mindset, anchor your vibration and ground yourself. What's in store for you: Closing Ritual, Thanking the 5 Elements, Dance, Closing Meditation
Zuzana Noah Workshop with DECHEN
Dechen is happy to give her first workshop in Czechia on Saturday, 6 th August 2022. During workshop in the morning she will introduce the meaning of one of the most important Tibetan Mantras. The Mantra of Compassion 'OM MANI PEME HUM'. It is said that this Mantra contains the essence of Buddhas teachings and has therefore a beautiful transforming energy. She will guide you how to practice this Mantra for yourselves and for all beings. The chanting of this Mantra as well as other Mantras such as the Tara Mantra will be the main focus of the workshop. She will also teach the steps of one of the JEWEL Dances that she created from the traditional Tibetan Circle Dance. It is danced to the Mantra 'OM MANI PEME HUM' and can be considered like a 'Spiritual Dance'.
Dechen Shak-Dagsay (NPL/CHE)
Ripples of Healing
The healing power of singing and praying as a tool to connect & empower our path. We have tremendous power to heal great waves in our lives. Both on a personal level and on the level of what lives around us. I invite you to a ceremonial, experimental journey, in which we will work with the life forces that are within us. Openness, vulnerability, loving eyes and presence, thanksgiving, heart-to-heart sharing, shared holding, healing singing, writing and more. I offer a space where we will allow these forces to awaken in us. Let them be our mentors That we can walk our path a little more open and gentle to the waves that pass through us. remembering the communication, we have with the holy body and the connections to each other. Gifts that are in us all the time... * How can we give ourself love, acknowledgment, empathy, pleasure, boundaries. To give the body and emotions floating and rising within us what they are seeking in the present moment with the help of loving touch & awareness. * How can I let someone else see me for all my raw wounds, for all my beauty, my sensitivity, my embarrassment. How can I empower my partner (even though we have only just met). A gate opens within us when we are ready to be seen in all our shades. Vulnerability, delicacy and visibility. As we are, cracked wide open. * As a group / as a community how can we influence nourishing healing for those around us. * And finally sending Healing to this world, to the earth. Global healing... The journey will be accompanied by music & singing, intentions and prayers to intensify the experience and assimilate the same forces within the body And within our path. Come as you are. * Bring a notebook and a pen The journey is suitable for adults. Men and women alike.
Netanel Goldberg (ISR)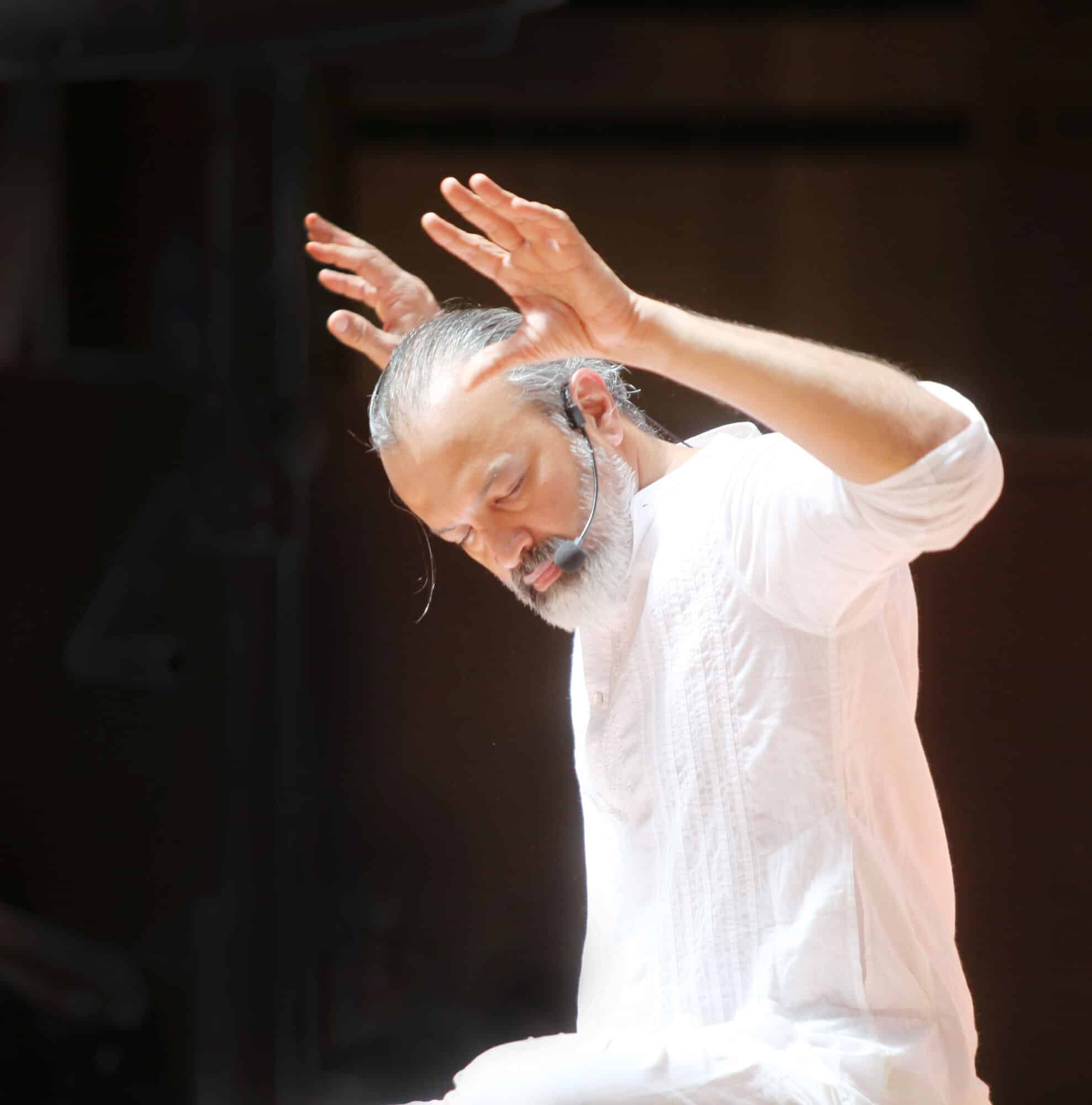 Limitless
We limit the scope of our life and what we can expect from it in our own minds. We limit the success and happiness in our relationships, the success of our careers and business and we also limit to how happy we deserve to be and can be in our life. In this workshop, we will learn to break the chains that keep our consciousness in blockages and break free from old patterns that harm us and keep us away from success, happiness and joy. We are going to learn to be LIMITLESS
Bijay Anand (IND)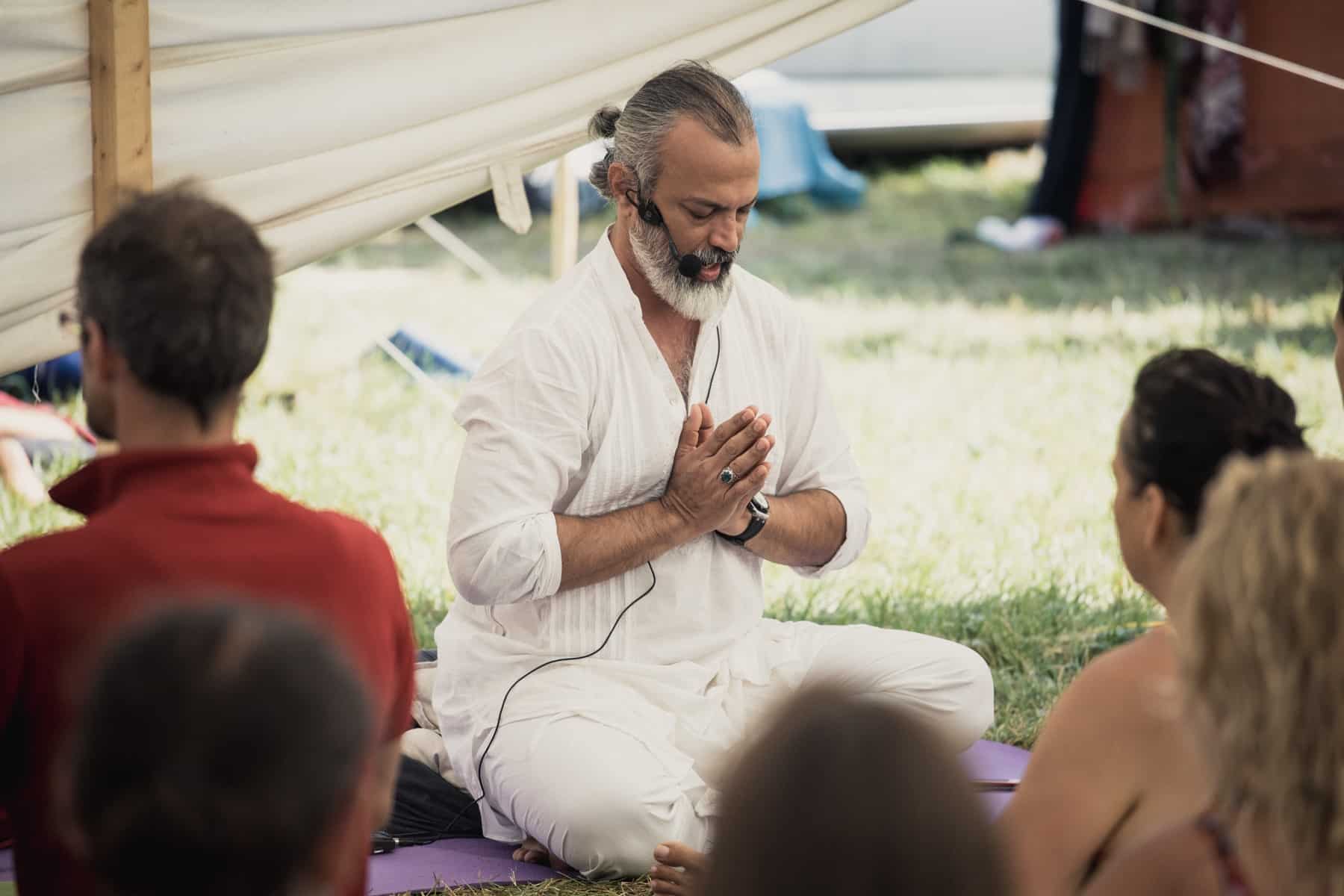 Blossoming of the Lotus
The heart is like a beautiful Lotus flower. We can either allow our hearts to drown in all the chaos, stress, anxiety and bad energy that surrounds us OR we can be like a beautiful Lotus flower that blossoms even in the most dirty waters. Standing out beautifully and radiantly to share its beautiful energy to make this world beautiful.
Bijay Anand (IND)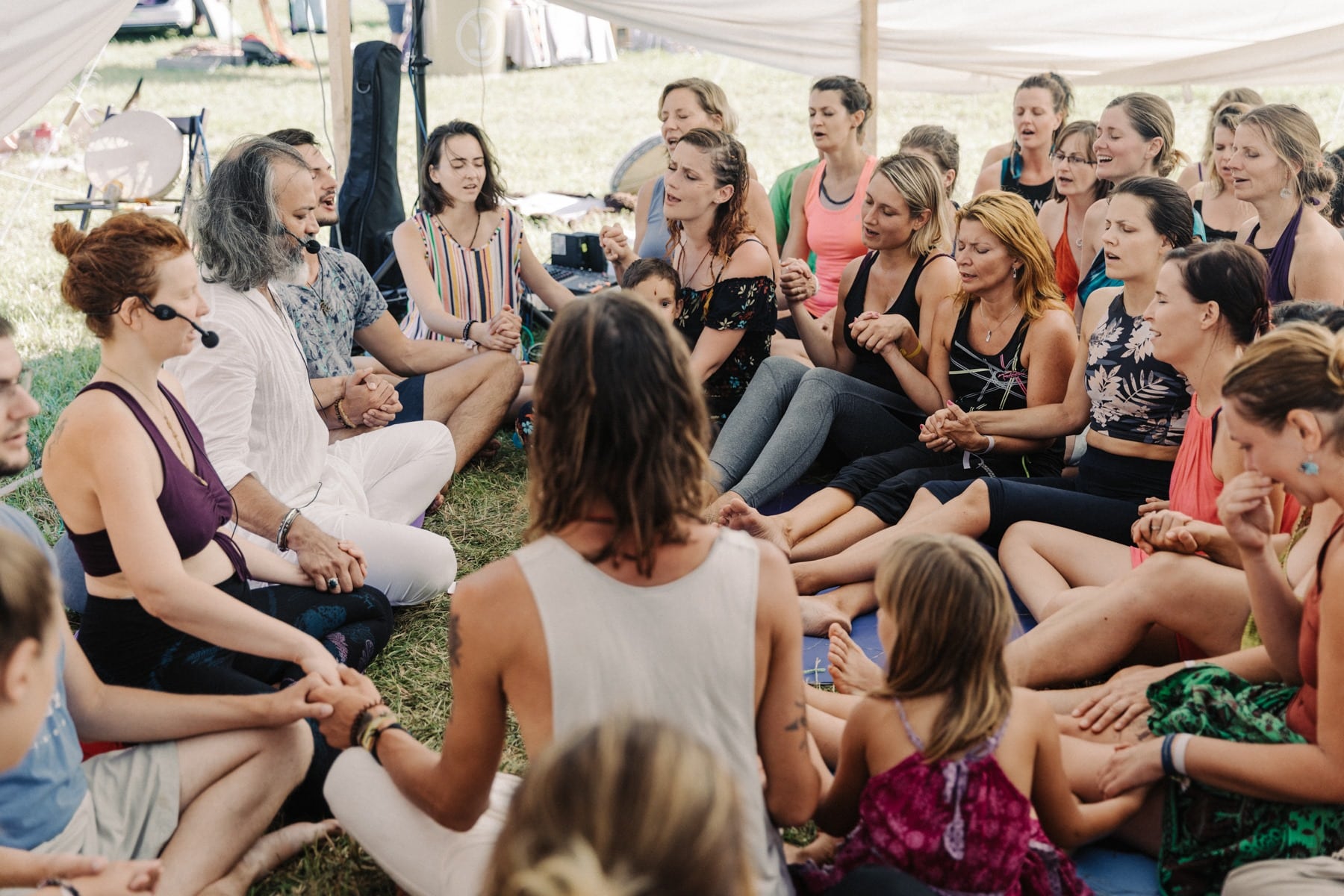 Expanding our Consciousness
Our consciousness has a constant desire and need to expand. We are in perfect alignment with the universe and divine energy if we are in a state of expansion and spiritual growth. If we learn this truth and make it apart of our life, we can attract good health, financial success and spiritual growth that will make our life healthier, happier and give us protection from the divine energy that we can be connected with at all times in our life.
Bijay Anand (IND)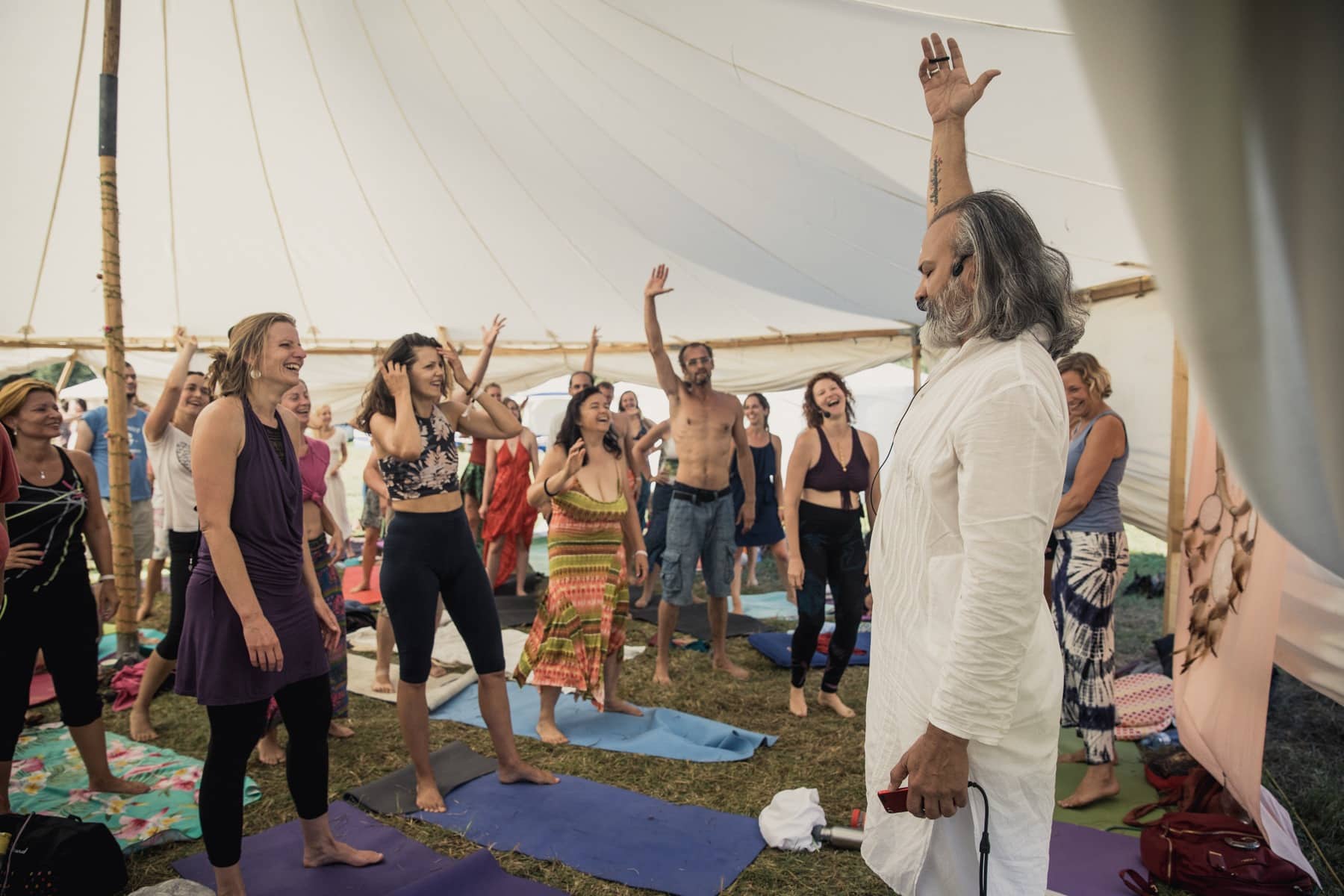 Healing our Auras
Our auras keep getting damaged from the time we enter our 'ego consciousness' in our childhood. There are many things that damage our aura. In this workshop we will learn how our auras become weak and how that affects our life. We will also learn how we can bring our aura back into balance and have beautiful, radiant and magnetic aura that will help us change our entire life.
Bijay Anand (IND)
Music workshop
This is a dynamic workshop combining musical activities with group interaction facilitated by a professional musician and qualified music therapist. Through music activities, awareness, social interaction, we connect deeply with ourselves, our physical bodies and with others. Music and sound with intention can bring us into the present moment. The voice, as an embodied instrument, helps to uncover areas of sensitivity and vulnerability that are ready to be felt and expressed which directly connects us with our physical body and emotions. Musical instruments give us the opportunity to "play", to remember our ability to explore possibilities and communicate without words. Singing together as a group builds a collective energy of love & solidarity and gives structure to those who wish to explore their voice with support and without constraints of technical musical boundaries. Conscious music and songs are used at certain moments in the workshop to create space for stillness, reflection, insight, dialogue and deep relaxation. This is a workshop for freedom, expression, and discovery. There are no musical talents required. We are the medicine!!!!💚
Niall Mc Guigan (IRL)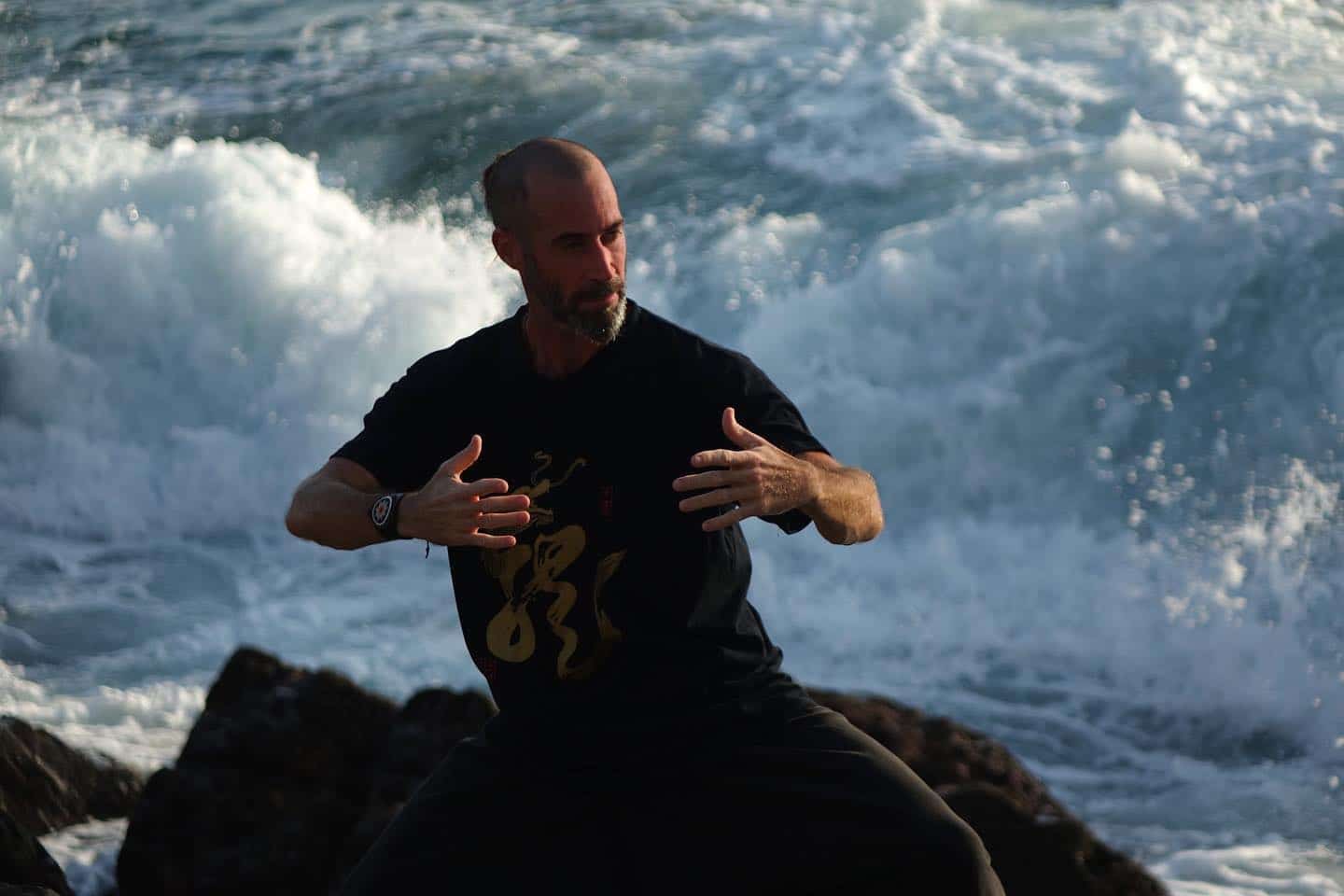 Dance of Tao
A journey of energetic movement, Tai chi and Qigong, dance & breathing that brings the body into pure release. The flow of this workshop starts with stretches, joint flexing, opening chakras, into movements from martial arts, dancing styles, Nature and animalistic movements. All with suitable music that lifts you up. Gentle yet stormy, graceful yet powerful. Intuitive and free flowing. The workshop aims at clearing energetic blocks and allow free-flow& self-expression. Orpheus leads a very pure and intuitive flow that lifts the whole group into higher vibration and Love frequency.
Orpheus B (CRI)
The Lover - Muži a sexualita
Not only for men, sexuality is a pretty taboo topic. In this workshop, we will go through biological and energetic insights into how (and why) sexuality was born, evolved and what is going on in us men. How shame and guilt limit us and why we actually feel them about things that are perfectly natural. In the practical part of the programme, we will learn some exercises from Sexual Kung Fu that will help us to stir and harmonise our sexual energy. (Theoretical part of the programme is for all, practical part for men.)
Ondřej Sedláček Ohana
Breathwork - transformační práce s dechem
Come experience the transformative power of your own breath. Breathwork or working with conscious breath will awaken your body's potential on a physical, emotional, energetic and spiritual level. You will feel what it is like to truly breathe fully - to truly live fully. At the beginning, we will be introduced to the technique itself and its potential for our lives. Then workshop participants will experience a one-hour breathing journey, supported by music and my own guidance. The whole event will be held in a safe environment so that they can fully relax into their experience, into themselves. At the end there will be space for integration and sharing.
Susy Nana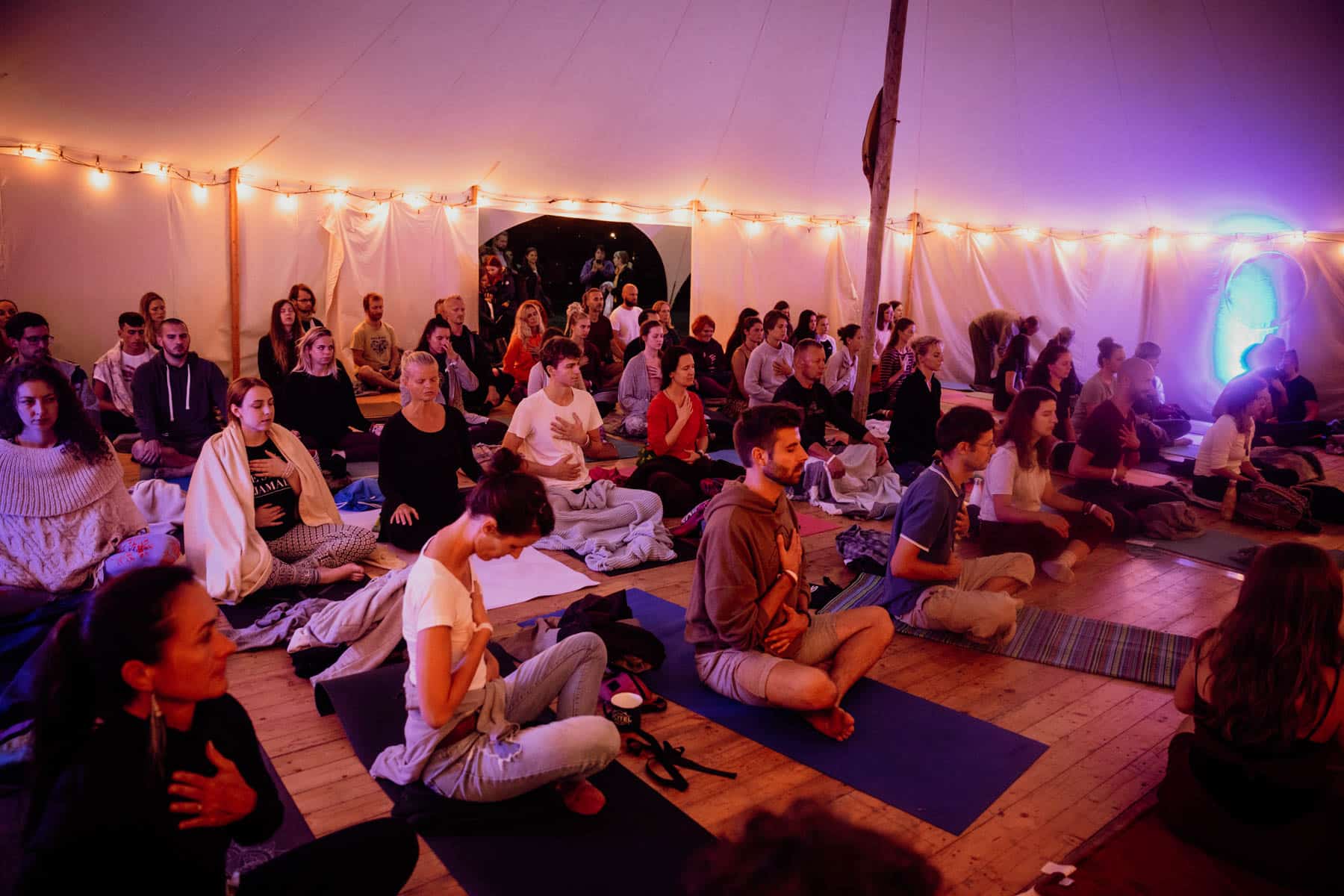 SOMA dech
During the SOMA Breathing program you will have the chance to experience a deeply relaxing, healing and slightly transcendental meditation. The breathing practice will be supported by SOMA's unique binaural music with elements of isochronic tones that help induce meditative Alpha brainwave levels with flashes of Gamma inspiration and higher self connection. The SOMA method brings elements of Eastern breathwork teachings in a modern take that is ideal for today's fast-paced society. It takes inspiration from modern approaches such as the Wim Hof Method and enriches them with subtlety, depth and an emphasis on the quality of the experience. The goal of SOMA is to heal our breath, improve our breathing stereotype and reduce our breathing rate to a healthy level of 10 breaths per minute and below. An important aspect of SOMA Breathing is the methods of programming one's subconscious mind through visualisation, affirmation and other more advanced techniques. During the breathing seminar, you will have the chance to experience an extended breathing meditation with a unique number of breathers, which tends to be the source of unique group experiences. The atmosphere and breathing space will be created by our large team of SOMA instructors. You will have the opportunity to immerse yourself in breath meditation throughout the whole festival this year, as part of an ongoing accompanying programme at the SOMA Breath experience tent. A wide range of variations and uses of breath meditations, activation and relaxation sequences, and morning and evening guided group breathing rituals will await you.
Jan Šilar
Jak se otevřít lásce a vytvářet zdravé vztahy
In this workshop I will teach you how to create a happy and healthy partner relationship in your life. It doesn't matter what ongoing painful experiences and beliefs you have about your relationship. Each of us has the opportunity to have a healthy, loving and happy relationship. Many people say they are searching for a new partner. When you replace the words "search for" with the words "call in", a new world of possibilities opens up. Do you long to create a relationship that is safe, happy and whole - with a partner who will help you realise your highest potential? At the workshop you will: - create an intention that will open up new possibilities in your love life - I will guide you step-by-step on how to create an intention that is a reflection of what is truly important to you and what matters to you. - visualise your loving relationship using intuitive vision. I will guide you to have a loving experience with your dream man/woman now already. This visualisation will support your intention. I will explain how and why to do this visualisation further in your life. - You will go through a letting go ritual - letting go of all that no longer serves you to create a healthy relationship and instead accept and begin to cultivate new possibilities of your being that will support the unfolding of love in your life. The letting go ritual is a celebration of your inner strength and truthfulness and creates space for love. I look forward to seeing you!
Eva Andriessen
Božský dech
Discover the power, magic and potential of your breath and self-healing. It is pure and deep work on yourself but also a beautiful celebration of life. It is a series of breathing techniques combined with guided meditation and intensive music therapy to awaken and reveal your full human potential and manifest love, harmony, happiness and abundance. It is a journey to reconnect with your Soul, your true self and your inner intelligence and heart. It is a return to your natural state of Being - gratitude, oneness and truth.
Petr Vašák
Změň svůj dech a začnou se dít věci
You will learn how to breathe functionally, how to detect and change the quality of your own breath. What the breath and its quality brings to life, how to get rid of migraines, how to get rid of stress, fears, addictions or phobias, how to fight colds and much more that our breath offers us that almost no one knows about.
Rostislav Václavek
Qigong 5ti elementů
Ritual workshop
Qigong of the 5 Elements is an ancient Taoist flow that helps to stir up energy at all levels and organs. It is a flow that combines a complex system that is part of Chinese medicine. The 5 elements are connected to the 5 major organs, 5 colors and 5 healing sounds. Take away a Qigong/Taichi flow that harmonizes the body, mind and spirit.
Ondřej Sedláček Ohana
Sexuální portály Lůna
It doesn't end with the first orgasm - so how does working with your own Womb affect your life? In this workshop you will learn what the sexual portals of the Womb are and how we as women can consciously work with them, not only in the area of our sexuality, but also its overlap for our personal and professional life. The workshop will include a lecture on the sex portals of the Womb and then you will have the opportunity to connect with your 1st sex portal - your own yoni and the themes it carries.
Susy Nana
Jsme léčivé dosycení nejhlubších potřeb
This workshop is for women and is about reminding ourselves of the basic need that each of us needs to feel when we come into this world. It often happens that some needs are not met and then we look for them in those around us, which often makes us behave in ways we don't want to, and we don't understand why we go beyond ourselves into pleasing others. We need to recognise these needs and begin to be the one to satisfy and stabilise them. To begin to be our own healer. TO BE WANTED | TO BE LOVED | TO BE RECEIVED | TO BE SUPPORTED I will guide you via spoken word to learn about these 4 pillars of life and then we will walk through a shared technique where we will feel these levels.
Anna Vašinová
Vědomý Kontakt
We are in constant contact all our lives. In contact with ourselves, with other people, with nature, with the mystery. Do you find this contact inspiring and nourishing or frightening, wounding, exhausting? Can you be in equally genuine, deep and intimate contact with others as well as yourself? Do you recognise and know how to communicate your boundaries? Can you say NO and at other times YES? What does a long look into your eyes do to your thoughts and feelings? I won't give you universal answers at the Conscious Contact experience workshop. I will guide you to find them within yourself.
Lucie Bečková
Léčení traumatu podle somatic experiencing
Workshop s přednáškou a cvičeními o léčení traumatu podle somatic experiencing. Ochutnání a poznání a porozumění metody somatic experiencing vytvořená Dr. Peterem Levinem jako přístup a terapie pro uvolnění a rozpouštění postraumatických stavů.
Zdeněk a Šárka Weberovi
Lidské zvíře - přežití, instinkty, útěk, útok, zamrznutí, bezpečí a seberegulace
Lidské zvíře - přežití, instinkty, útěk, útok, zamrznutí, bezpečí a seberegulace, jsme lidské zvíře a toto zvíře je základním instinktivním uzemněním našeho života. Toto zvíře žije ve světě situačních instinktivních okolností, které nelze předvídat. Porozumění tomu jak lidské zvíře samo sebe neustále reguluje v situacích života je zásadní pro osobní usazení a ubydlení v těle. Být v těle znamená, být ve zvířeti.
Zdeněk a Šárka Weberovi
Léčení kolektivního traumatu inspirováno Thomasem Hublem
Přednáška a workshop umožnující ochutnat to jak můžeme uudravovat trauma spolu, jak důležité je pochopit, že nejsme odděleni. Žijeme ve fragmentovaném světě, kdy ty a já a my zdá se býti oddělenými. Toto kolektivní se promítá do individuálního a naopak. Šáhneme si na léčivé momenty a okamžiky léčení kolektivního traumatu.
Zdeněk a Šárka Weberovi
Síla z jídla
Uvědomuješ si, jakou moc má v tvém životě jídlo? Jak velký vliv má na tvůj život? Během workshopu ti představíme naše životní příběhy s jídlem a zkušenosti, které vedou k harmonické výživě. Zároveň ti prakticky ukážeme jakou má sílu, když vědomě k jídlu a pití přistoupíš. Workshop zakončíme kokosovou ceremonií.
Kateřina a Atrey Rae
Finanční mindfullness
Finanční všímavost je prostor prozkoumávání našeho osobního i kolektivního vztahu k penězům a prosperitě. S čím vším náš vztah k penězům souvisí? Jak je spojen s prožíváním v těle? Jak je ovlivněn našimi vlastními, rodinnými i kolektivními traumaty? Jak se projevuje stínová motivace k prosperitě? Možná dojde i na spirituální aspekt financí. Čeká vás inspirace, vlastní reflexe a sdílení mezi účastníky. Odnesete si inspiraci pro kroky, které můžeme pro sebe na cestě ke zdravému prožívání financí rozvíjet.
Šárka Weberová
Jak odbrzdit energii hojnosti
Podíváme se na to, co lidi nejčastěji blokuje na cestě k volnému proudění hojnosti. Některé bloky v ten den můžete zrušit. A také Vás provedu meditací pro otevření nekonečného potenciálu v nás. Hojnost čeká, až jí přestaneme stát v cestě a je dobré přestat s tím DNES.
Lenka Eywa
Léčení vnitřní ženy a muže
Tento program je vhodný jak pro ženy, tak i pro muže, kteří v sobě chtějí zharmonizovat ženskou a mužskou polaritu, a více si porozumět. Vydáme se zde na cestu k prozkoumání našich vnitřních bytostí, objevení jejich nerovnováhy a dosud neprojevených či potlačených citů a potřeb, které ovlivňují naše každodenní vztahy. Můžete se těšit na provedení ve fyzické i duševní úrovni, a to skrze úvodní meditaci, ve které uvidíte nynější vztah vašeho vnitřního muže a vnitřní ženy, dále kontaktní intuitivní tanec, a mimo jiné i krátkou konstelační hru. Pojďme společně oslavit mužsko-ženskou spolupráci nové doby.
Tereza Urbanová & Lucie Hamrlová
Cesta do krajiny srdce
Tam uvnitř, v chrámu Tvojí Duše, ve Tvém srdci... Tam je schovaná Tvoje vnitřní pravda, Tvoje autenticita, radost a realita, kterou můžeš žít, když si to dovolíš 🤍 Čeká tě posvátný a bezpečný prostor, kam budeš moci skrze práci s energtickými centry svého těla v tanci a pohybu, ve svobodě, volnosti, radosti vplout, pustit, zpřítomnit se a uvnitřnit se. Budeme integrovat afirmace světelné podpory a necháme rozeznít hlas své Duše, poplyneme na vlastních vibracích a rezonancích, které nám poskytuje ten nejúčinnější muzikoterapeutický nástroj - náš hlas 🤍 Budu vás provázet kouzelnou vybranou hudbou i vlastním hlasem, nástroji (shruti box, hand pan, šamanský buben atd.), andělskými i šamanskými polohami, které jsou součástí mého poslání tady na Zemi. Toho, co vibrace jména Duše AESTRA nese. Vše se záměrem jít se zdrojovou podporou blíž k Sobě Sama, ke svému srdci, k chrámu své Duše a žít plně to, pro co si naše duše na Zemi přišla.
Lucie Aera Prostřední
I královna je zranitelná
Ženský kruh
Ženský kruh na téma zranitelnosti, ve kterém můžeme dát prostor svým prožitkům, které ve společnosti nejsou příliš vítané a ceněné a přitom je v nich ukrytá obrovská síla, kus naší vitality. Přijetí své vlastní zranitelnosti nám vrací důstojnost, pokoru, soucit a moudrost.
Šárka Weberová
Život na hraně: parkourová mentalita a práce se strachem
Jako člověk, který se parkouru věnuje přes 13 let, tě Paulie zasvětí do toho, co za těmito skoky stojí, v čem všem ho trénink ovlivnil a jak se to dá aplikovat do běžného života. Přednáška je spojená s meditací a praktickou částí, ve které se bude pracovat s vizualizací a pohybem. Je vhodná pro každého, kdo chce v sobě posílit mužský princip a načerpat energii ke zvládnutí jakýchkoliv výzev.
Pavel 'Paulie' Petržela
Průvodce sněním
Uvedení do práce se sny, "dialog vědomí a nevědomí", pochopení významu snu, integrace snu do života a reakce na sen, záměr a naslouchání.
Petr Sax
Tarot, láska a vztahy - workshop s tarotovými kartami
Ukážeme si, jak 78 karet Tarotu odráží časté situace v mezilidských vztazích, pro ilustraci provedeme konkrétní vztahové výklady karet na přání účastníků
Jan Kroča
Soběstačnost - jedlé listy, květy, kořeny, semena
"Pokud se nenaučíme, jak pěstovat své vlastní jídlo, jak se postarat o sebe a své rodiny a jak žít bez potřeby obrovských vlád, bank a korporací, jak to kdysi dělali naši předkové, pak nejsme vzděláváni, ale jsme vychováváni k tomu, abychom byli závislí a podřízení na systému." Gavin Nascimento Chcete si obohatit jídelníček planými rostlinami, ale nenašli jste k jejich sběru odvahu? Chcete dosáhnout větší soběstačnosti? Naše štědrá příroda nám prostřednictvím listů, květů, semen, kořenů a hub poskytuje dostatek vitamínů, enzymů a minerálů po celý rok. A co když nic moc v přírodě nepoznáte? Na mém semináři se dozvíte, jak poznat jedlé a léčivé rostliny pomocí smyslů i jak je celoročně šetrně sbírat a používat. Atlasy a kuchařky divokých rostlin jsou příliš složité? My na to půjdeme jednodušeji. Seznámím vás se zásadami bezpečné konzumace rostlin, s tipy, vychytávkami a návody na jejich zpracování. Využijeme i zkušenosti našich předků, kteří s přírodou byli mnohem více propojení. Budeme si povídat o "zelenině" z naší přírody a o rostlinách, které nám dodají energii a potřebné kalorie.
Radka a Pavel Svatošovi
Vědomá seznamka
Večer je veden nevšedním způsobem, nečekejte tedy klasickou seznamku. Můžete se těšit na citlivé provedení skrze jemné kontaktní hry, vědomý dotyk, který nenarušuje ničí intimitu a navnímání si vlastních hranic. Tímto programem otevíráme prostor pro všechny nezadané, otevřené a hravé bytosti, které prahnou po hlubokém duševním propojení. Během večera budete mít možnost se propojit se svou intuicí a srdcem, které vás zavede k osobě, na kterou dlouho nezapomenete…
Tereza Urbanová & Lucie Hamrlová
Jedinečnost bytí v propojení se Zemí
Jakým kouzlem a přispěním můžeme být pro Planetu Zemi a jak ona může přispívat nám a našemu životu? Jsme ochotni to vnímat? A jsme ochotni to přijímat? Pojďte se s námi ponořit do energetických cvičení, prožít toto téma na vlastní kůži. Co kdyby otázky vytvořily víc? Srdečně Vás zveme na workshop založený na nástrojích modality Access Consciousness a knize Dr. Daina Heera - Být sám sebou mění svět. Access Consciousness modalita, která posiluje lidi v tom, aby věděli, že vědí. Nabízí pragmatické a účinné nástroje, které můžete jednoduše používat v každodenním životě. Vedou nás k tomu vnímat, že nikdo, kromě nás samotných neví, co pro nás skutečně funguje.
Kateřina Grunová a Simona Hrabalová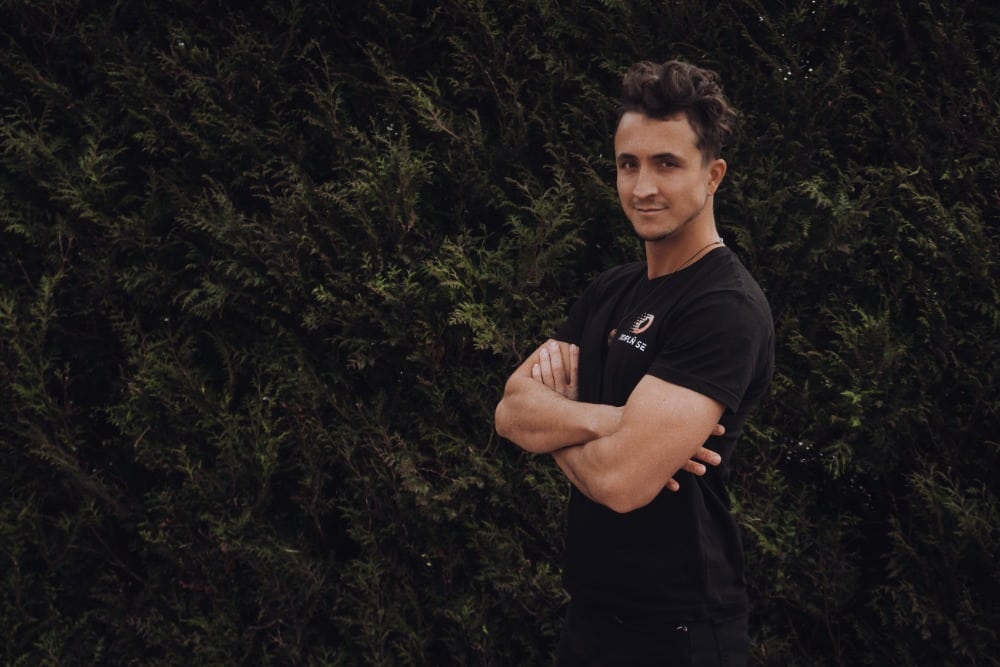 Jak lépe porozumět elementům ženských proměn
Mužský kruh
Pojďme si to říct na rovinu, žena je pro nás muže zcela jiný Vesmír. To může být kontraproduktivní, pro náš vnitřní klid a mír. Protože, máme přece rádi svoji komfortní zónu. Co, kdyby tahle stejná žena, tento jiný Vesmír, pro nás ovšem něco měl. Co kdybychom společně mohli vytvořit něco více, než jen náš mužský Svět, bezpečný klid, ale smrádeček. Ženy to mají zkrátka jinak, tohle jinak je něco čím se můžeme vzájemně obohatit, podívat se na sebe z jiného úhlu pohledu, než jsme zvyklí. K tomu je potřeba ženám porozumět a o tom bude tento mužský kruh.
Jan Vojtěchovský
Traditional Tantra Sadhana of India
Představení teorie i praxe autentické sádhany, která využívá starobylé techniky předávané žijícími mistry linie, které je Ra Dasi součástí. Vysvětlení vědy tantry vyjádřené oddaností.
Ra Dasi (ENG/GRC)
The Power of the Heart: A Silent Space to Awaken to Who We Really Are
"If the house of the world is dark, Love will find a way to create windows." Rumi. We are in an ascension process as humanity and in an awakening process as individual human beings. WHAT IS THE HEART? According to the spiritual teacher Ramana Maharshi, "The Heart is the centre of the Self and the Self is the centre of the centres". In this talk we will explore the Heart in its different dimensions: as a physical organ with its own intelligence, as an organ or knowledge according to Toltecs and Mayans, and finally as a portal to our true nature by Christian esoterics and Sufis. The Heart also connects us to the natural frequency of Consciousness, which is LOVE. We will explore practical exercises and Cacao as the natural Medicine to connect to the Heart Space and to cultivate its opening and blossoming. "Close your eyes, fall in Love, stay there." Rumi.
Haliama (MEX)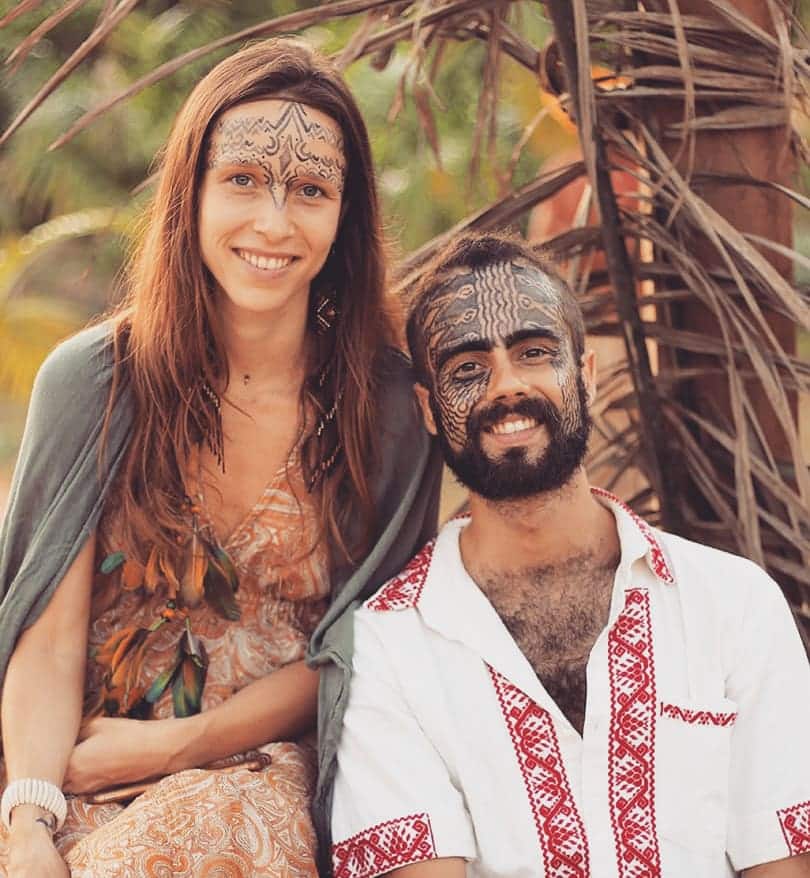 Sacred Chants from the Amazon
Coming from Brazil, Matteus Andrade and Rebecca Junge take us on a journey into the native spirituality through chants, prayers, stories and music from the Amazon forest. These practices are a tribute to the roots, and have a purpose of integrating our being with the ancestral knowledge that is waiting to be awakened inside us. By elevating the consciousness to a state of heightened awareness, the intent of the session is to bring forward the shamanic culture with respect and honour.
Matteus Andrade a Rebecca Junge (BRA)
Tělo jako kniha i klíč
Naše fyzické tělo je knihou našeho života. Vše co prožíváme se propisuje do každé buňky v těle. Buňky obsahují tajemství našich životů, veškeré vědění a moudrost bytí. Obsahují klíč k našemu Zdroji. Je jen na nás na co se naladíme a čemu dáme v životě prostor. Co se děje, když se bráníme, necítíme a potlačujeme? Vzniká tlak - bolest, která se hromadí v těle a brání nám spojení se Zdrojem, s moudrostí. Společně se naladíme se na sílu skupiny a ponoříme se do léčivého doteku. Příjmeme do svého pole neznámého druhého, který nám odhalí naše hluboko schované pravdy. Jak hluboko se ponoříte do prožívání a vidění záleží jen na Vás. Ukažeme si jak skrze moudrost těla a síly přítomného okamžiku dokážeme "vypustit" z těla vše co jsme si nedovolili a co jsme nedokázali dříve. Skrze obyčejnou a mocnou pozornost Vám připomenu jak "nehromadit a průběžně odpouštět". Ve chvíli úplné nahoty, čistoty můžeme číst v knizenašich životů. Cítit a obnovit spojení se Zdrojem..
Michala Nožičková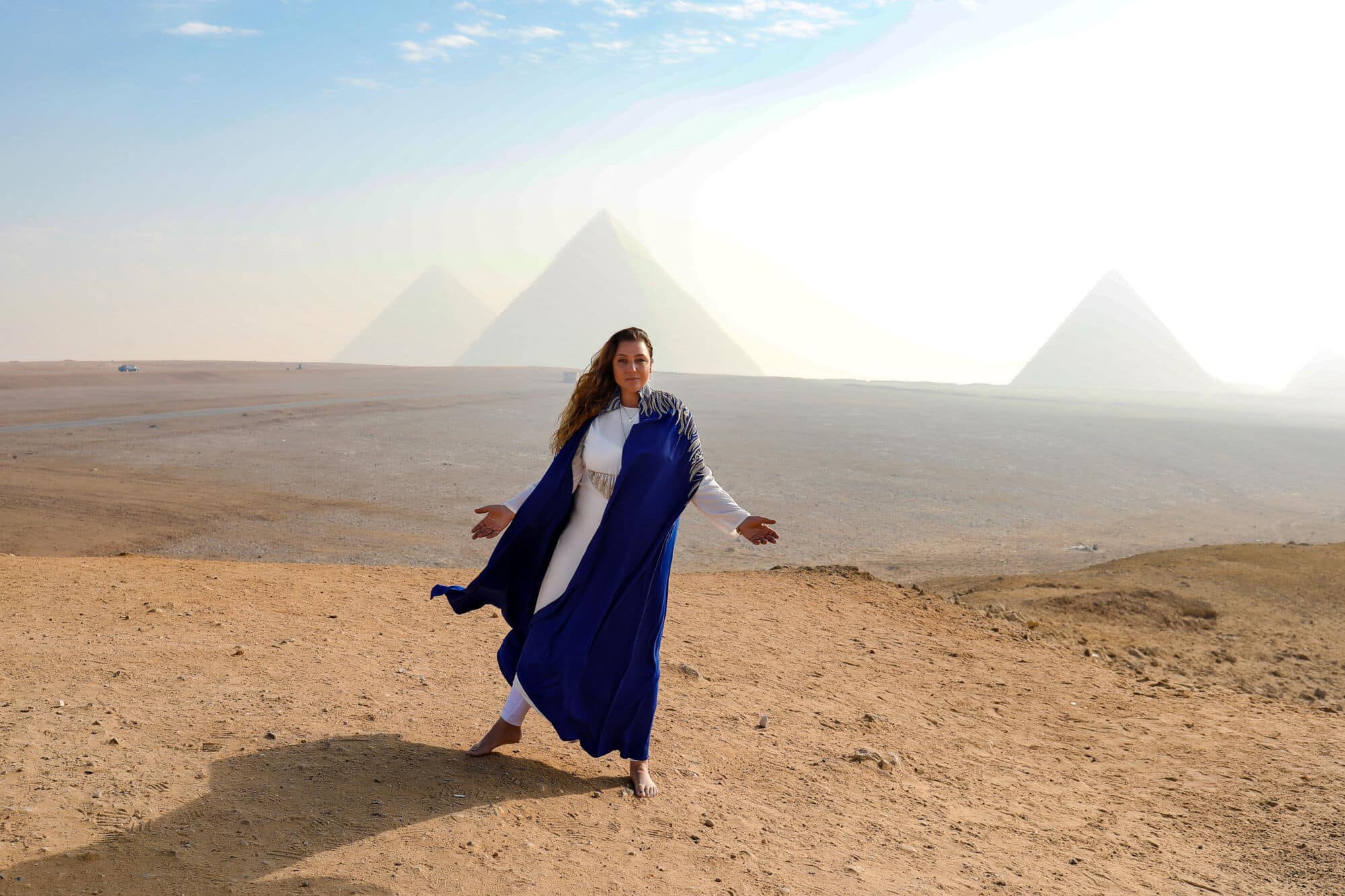 Kundalini - Dragon Activation
Ignite your Heart FIRE! The dragon spirits are the custodians of the Kundalini Energy and they are the protectors of the New Earth. Connect and awaken your dragon Fire in this special Kundalini class. Remembering our true divine Source in every breath. In this workshop Za rah, a Golden Dragon Guide and Kundalini trainer and Isis priestess is sharing her Dragon codes with you, through breath work, sound, Mantra, movement and Kundalini Yoga. Come and fall in love with your Dragon spirit.
Za Rah Kumara (DEU/GRC)
Bhakti Yoga Flow
A fun, flowing class that will bring people together. Upbeat music, peppered with yogic insight and thought-provoking concepts.
Charlie Kelly (UK)
Vinyasa Yoga
With an open heart and mind, Bruna seeks to provide the opportunity to respect and explore students with their limitations and emotions. For her, Yoga is a universal transformative tool that helps people interpret life from different perspectives. Bruna teaches Vinyasa and Hatha Yoga where this dynamic movement can flow at a rapid pace or it can be really slow. Vinyasa (translates to "flowing with breath") is a dynamic style of Hatha yoga which joins physical postures, or asanas, with inhales and exhales, creating a steady internal rhythm for the practice. Her Flow classes are designed to cultivate heat in the body with creative sequences with a strong focus on the power of breath awareness.
Bruna Bortolato (BRA/USA)
Gayatri Mantra
Om Bhur Buvah Svah Tat Savitur Varenyam Bargo Devashya Dhimahi Dhiyo Yo Nah Prachodayad ...28 years ago Naropa was initiated into this universal mantra by ShantiMayi from the Sacha Lineage. It proved to be a transforming power. Reciting, chanting or listening to this mantra erases our doubts and confusion and shows us the primordial light of our soul. It is said this mantra is older than the sun. Wherever Naropa travels, he takes the chance to share the blessings of this Mantra.
Naropa (NDL) Satsang and Mantra with Naropa
Satsang starts with the mantra group 'Savituriya'. You are invited to join chanting so your awareness will shift to that 'place' where there is nobody and no-mind. You participate while singing and listening in a field of beingness. Naropa will open the satsang with a poem of the Sufi mystic Hafez, while improvising on the spoken words, leading us to the unspoken world of your soul. There will be time to bring yourself into the gathering in response to satsang.
Naropa (NDL)
Božská jóga a Božský dech
Díky Markéty božské józe uvolníme nejdůležitější energetická centra v těle. Petrova speciální dechová technika spojená s živou hudbou pak zoptimalizuje a zharmonizuje vaši mysl, tělo a duši. Procítíme plně LÉČENÍ TĚLA I MYSLI a prodýcháme se k vnitřnímu světlu...🙏
Markéta Faustová a Petr Vašák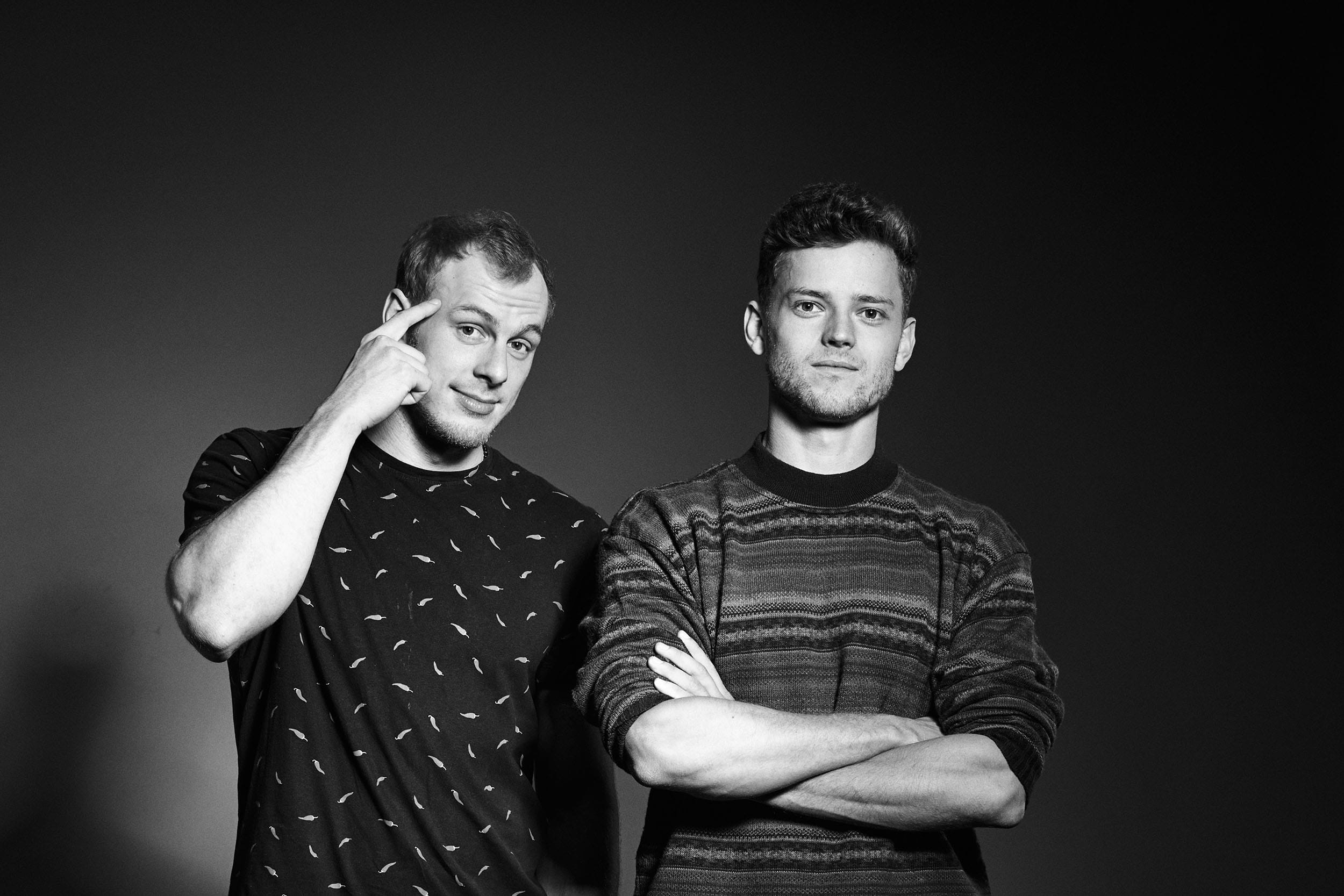 Chilli meditace
Meditace a Chilli papričky. Jde tato kombinace dohromady? Ve dnešní době je důležité podporovat svůj mozek a zvládání stresových situací. A proto je tu i Chilli Meditace – vedený prožitek šitý na míru. Chilli papričky obsahují aktivní látku Capsaicin. Ten se váže na receptory bolesti na jazyku a způsobuje intenzivní prožitek. Spolu s tím jsou v těle uvolňovány endorfiny, které pocit bolesti zmírňují a přirozeně navozují dobré pocity prožívání, radosti a štěstí. Ve vedeném prožitku se naučíme s tímto vjemem pracovat.
Brain We Are
Kundalini joga
Protože nás naše zkušenosti programují jednat určitými způsoby, nevědomky dokola prožíváme stejné potíže, bolesti a dramata. Praxe nám pomáhá tyto vzorce rozpoznat a začít ovládat svůj život. To vše dohromady vytváří magický vzorec, který nám otevírá možnost žít život, o kterém sníme. Tyto osvědčené techniky jsou mocnými nástroji k pochopení a neutralizaci deprese, úzkosti a dalších vnitřních strašáků. K transformaci podvědomých vzorců používáme hlubokou moudrost ukrytou v: ❉ Krijích ❉ Mantrách ❉ Pranayamě ❉ Mudrách ❉ Meditacích
Petra Shakti
Meditace LÁSKAvosti
Mettá, meditace, která pochází z buddhismu. V češtině se používají různé překlady jako například meditace milující dobrotivosti nebo meditace laskavosti. Podle buddhismu existuje několik druhů mysli. Jedním z nich je právě doslova "nehněv" neboli láska, milující dobrotivost. Tato meditace nás vede k příjemnému prožívání budoucnosti. Buddha tento proces přirovnával k pěstování rostliny. Pokud chceme zasít rostlinu a později ji sníst, vybereme takové semínko, které je lahodné. Kdybychom zaseli semínko jedovaté, vyroste nám jedovatá rostlina. Jednoduše řečeno, co zasejeme, to také sklidíme. Při praktikování této meditace se spínají určité části mozku, které navozují pocit štěstí, klidu, harmonie a vzájemného propojení. Výsledky cítíte okamžitě. Proto se také na tuto meditaci lidé těší a snáz si z ní vytvoří pravidelný návyk.
Manželé Allister
Vodní Flow s živou hudbou
FLOW LIKE A WATER (Prana Flow Yoga) - Hýbej se jako řeka. Pluj ve vlnách. Najdi v sobě šíři oceánu a lehkost bytí. Fluidní pozdravy slunci. Tělo v jemnému plynutí. Dechová praxe, která ti přinese volnost. Harmonie těla a dechu v pohybu. Blaženost v měkkosti.
Markéta Faustová, hudební doprovod Štěpán Faun
Aktivní meditace obnovení vnitřní síly
Aktivní meditace nám pomáhá skrze pohyb a záměr uvolňovat nánosy na několika rovinách naší existence. Uvolňuje napětí na těle, v podobě ztuhnutí, pomáhá uvolnit napětí emoční a tlak. Pomáhá zrelaxovat mysl a uvolnit přesvědčení, která můžeme žít, a také pomáhá uvolnit energetické blokády a ztuhlosti. Pro každého má meditace něco jiného a každý pustí tak moc, kolik si dovolí. V první části jdeme do aktivní uvolňovací části, a poté přejdeme do klidné a vyživující meditace.
Anna Vašinová
Ohnivé Flow s živou hudbou
FIRE IN A BELLY FIRE IN YOUR HEART (Prana Flow Yoga) - Dynamická kreativní jógová praxe, která pomůže zažehnout tvůj vnitřní oheň. Budeme pracovat s manipura čakrou, dýchat ohnivými dechy a vyzkoušíme i několik balancí na rukou. Tato solární praxe je vhodná pro ženy i muže. Budete se po ní cítit aktivovaní, protažení a prodýchaní. Spojení se svou vnitřní silou a potenciálem.
Markéta Faustová, hudební doprovod Štěpán Faun
Svítím, tedy jsem!
Workshop s meditací
Přijď záhajit svůj den i své putování po planetě Fesťák tímto hravým workshopem se Světlonoškou. Dotkneme se témat Světlonošství a naší mise na této překrásné planetě v kontextu Nové Země a Věku Vodnáře. V rámci workshopu Tě čeká fantazijní aktivační meditace v aktuálních energiích Lví brány. Meditace bude obsahovat channelované vzkazy pro všechny zúčastněné a bude podpořena léčivým paprskem ze Shambally. Společně vytvoříme vysokovibrační pole, které Tě otevře pohádkovému prožívání zázraků a příjmu všeho, co na Tebe na planetě Fesťák čeká. Odneseš si také malý dárek. Pojď se sejít a přivítat nové ráno, Se vším, co pro nás je nachystáno. jako tomu bylo v dobách pradávných, kdy naše duše spolu tančily po hvězdách a Ty tušíš, že jsi jednou z nich.
Světlonoška Lucie
Hatha jóga srdcem
Lekce hatha jógy se závěrečnou relaxací s bubnem
Michal Rauer
Omlazující lekce obličejové jógy
Společně si zacvičíme omlazující sestavu obličejové jógy pro ozdravení a omlazení tváře. Tato sestava vám pomůže zjemnit si vrásky od krku až po čelo. Nejlepší je přijít už na začátek lekce, ať se naučíte všechny potřebné cviky.
Andrea Doležalováa
5 Elementů v životě ženy
Přednáška s meditací
Jak můžeme využít potencionálu 5ti elementů v každodenním životě? Co nám každý z elementů přináší a jak s nimi můžeme pracovat? Zvu Tě na přednášku Ženy Země, skrze kterou si budeš moct rozpomenout na dary bytí zde na Zemi a objevit potenciál 5ti elementů, které jsou s námi každý den přítomné.
Amisuel Ohana
Jin jóga
Šárka nabídne osobní zkušenost s jin jógou, která je pasivní formou jógy a je vhodná pro každého, kdo touží po hlubokém uvolnění těla, zbavit jej napětí a stresu. Jin jóga je cestou do nitra a Šárka vás na ní jemně povedu.
Šárka Říháková
Meditace Růže
Nech na sebe padat růžovou rosu, esenci jemnosti této květiny, která přináší dokonalé ponoření se do vlastního nitra, do chrámu našeho srdce. Prociť ji v kombinaci s uzemňujícím kadidlem a povznášejícím grapefruitem u zvuku křišťálového zvonu.
Šárka Hasara
Setkání za zrcadlem
Meditace
Rituál pro tvou vnitřní vlasovou královnou. Od ní se dozvíte, jaké dary ukrývají vaše vlasy a také jak je můžete využít k růstu (vlasů i své osobnosti). Čas, kdy se na chvíli zastavíte a budete se věnovat sama sobě, svým vlasům a taky vnitřním touhám. Budeme se vlasů dotýkat, hrát si s nimi a také se jich ptát...
Hana Moneam
Jemná jóga
Jemná jóga je prostorem sebelásky, časem věnovaným pouze sobě. Místem, kde můžeš konečně sundat nohu z plynu, snažení se o dokonalost odložit stranou a jen tak být. Lekce je zaměřena na vnitřní prožitek a propojení se se svým dechem. Je vhodná pro pokročilé jogíny i úplné nováčky.
Veronika Krejčová
Sharabh Yog - Traditional Tantra Yoga of India
Lekce jógy využívající bija manter okvětních lístků čakry Muladhar spolu s úvodem do tantrických krijí a energie Ganéši.Tato lekce jógy je nabízena jako rozšíření tradiční tantrické sádhany, která se koná v průběhu festivalu v chrámovém prostoru zasvěceném Ganéšovi.
Ra Dasi (ENG/GRC)
Conscious Crypto
A discussion on deeper considerations on the topic of "Interest" and how it relates to the new digital currency economy. Vijay Krsna, the founder of KIRTANIYAS, Sriyam Records and SriKubera. Finance, invested in Bitcoin in 2013 based on principles he recognized the world at large would benefit from. Now developing multiple projects on the blockchain, web 3.0 and future technology.
Vijay Krsna (UK)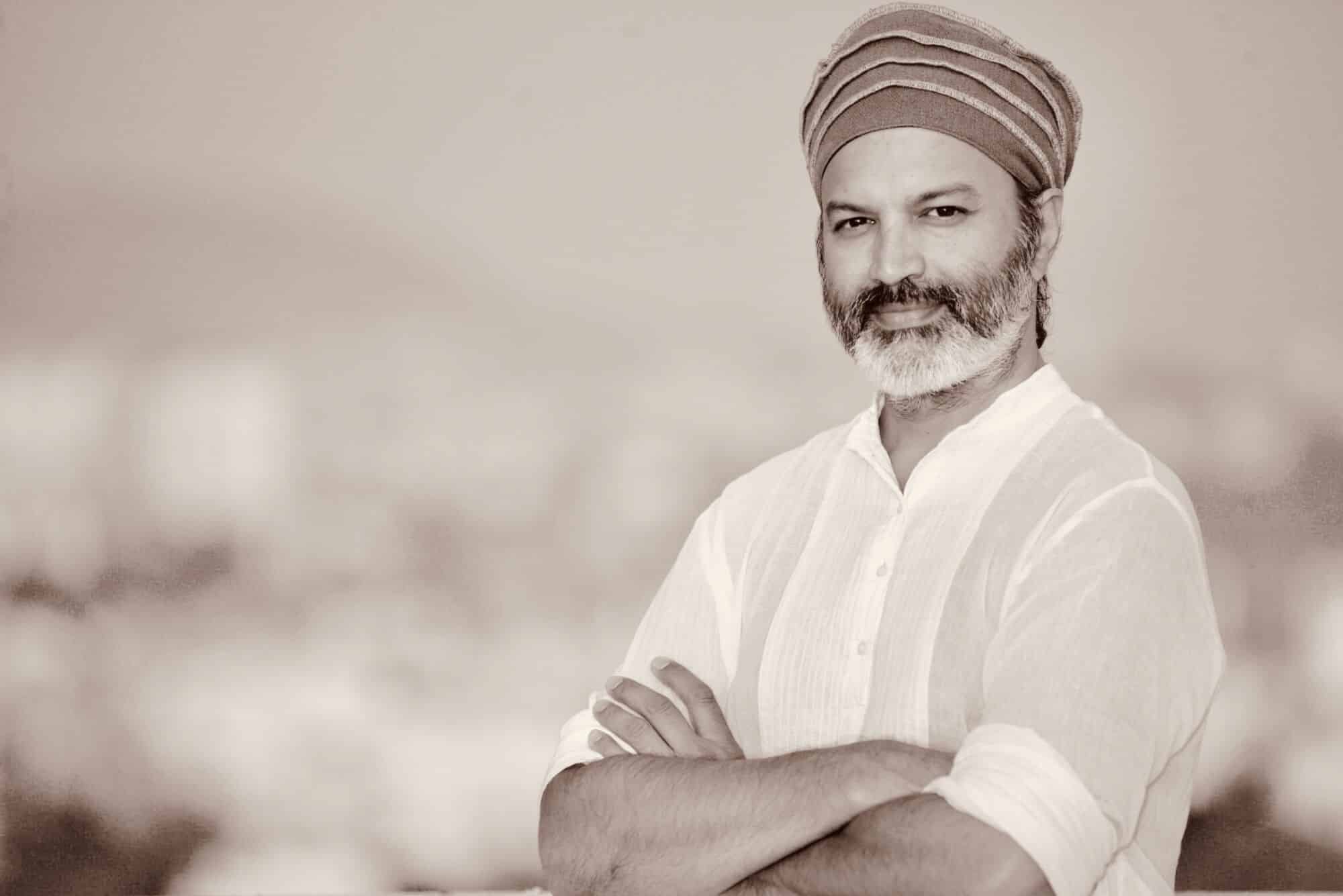 Ayurveda and Nature Cure to change our life
India has a 5000 year old science known as Ayurveda. This is a science that helped me personally to heal my arthritis and high cholesterol with no medicines and doctors. Only a better understanding of my body and how it needs to work. In this workshop, I will explain to you the most important aspects of our health which, if understand them and use them daily, can change our whole life and make our minds and body healthy as well as fill our life with peace and happiness. After the talk there will be time for questions from all participants.
Bijay Anand (IND)
Shamanic Revolution - "The path of the White Eagle"
Todays Shamanism is a global awakened movement and a portal for many ancient souls who wish to find their path and wisdom. Orpheus will share of his vast experience working with many teachers, Masters and shamans around the world, and will shed light on finding your own unique expression and holistic way of life, as well as how to start connecting to your Shamanic soul.
Orpheus B (CRI)
Love is the Goal and Love is the Path
achieving continual contentment through the practices of love ❉ what is it to love ❉ who are we to love ❉ can we love everyone what techniques can we employ to love in each situation ❉ is love an illusion
Charlie Kelly (UK)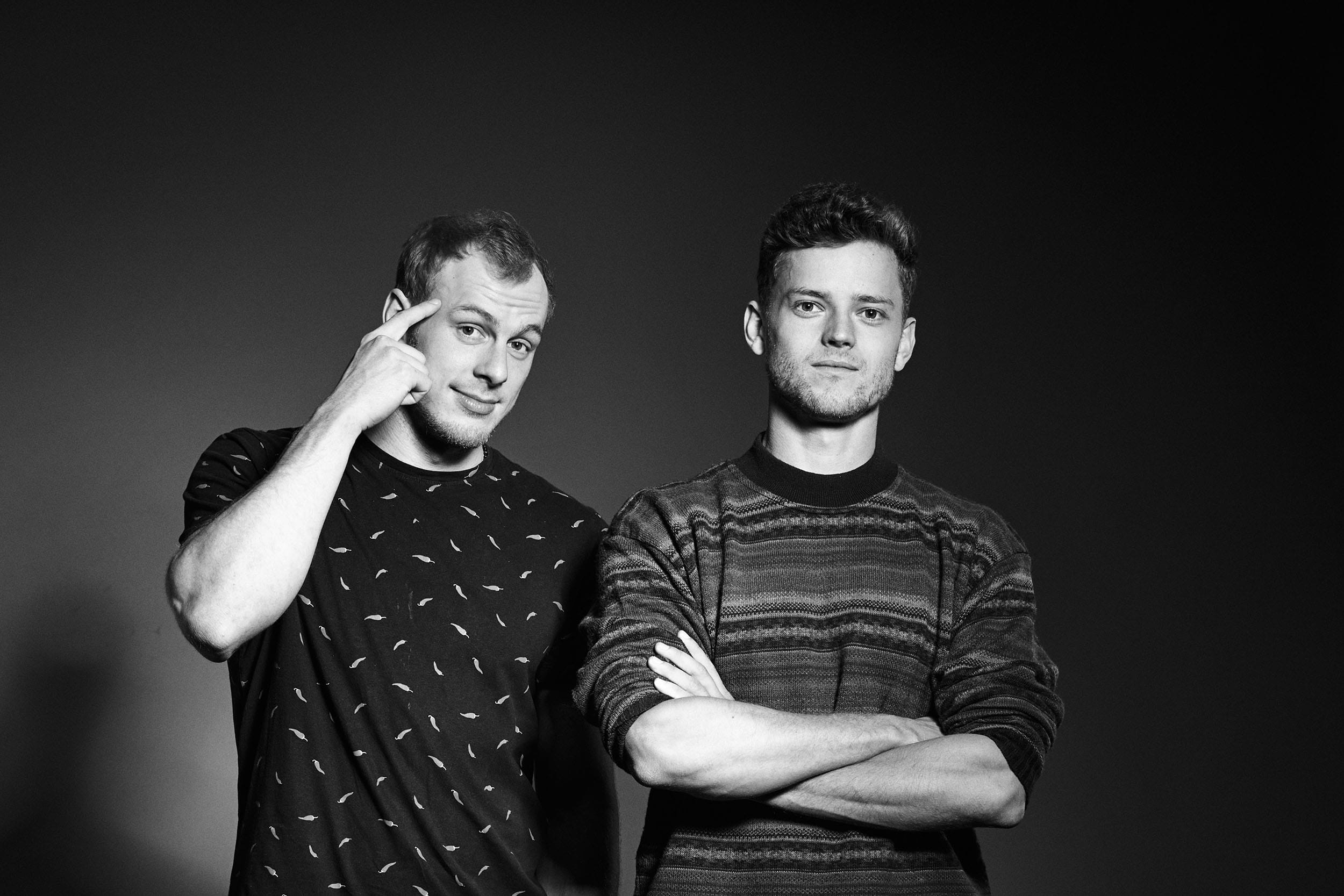 Optimalizace Těla a Mysli - Úvod do Biohackingu
Jak začít fungovat ve dnešní době optimálně? Subjektivní prožitek je to jediné, co máme, a tak bychom se o něj měli začít starat. A proto je potřeba porozumět fungování naší mysli, tělu a biologii. Poznejte nástroje pro práci se svým zdravím očima vědy. Představíme Vám PROČ se o sebe začít starat a JAKÉ nejužitečnější praktiky zařadit do svého arzenálu. Co Vás čeká? ❉ Představení Biohackingu a nástrojů podpořených vědou. ❉ Zaměříme se na nejčastější příčiny zhoršeného mentálního a fyzického zdraví a ty nejefektivnější kroky, jak se tomu bránit. ❉ Poznáte super-bylinky a potraviny na paměť, pozornost, učení a bulletproof kávu. ❉ Projdeme ukázkou základních způsobů práce s myslí a tělem. ❉ Otužování, cvičení, spánek v teorii s praktickými tipy.
Brain We Are
Psychedelika: Od výzkumu přes terapii až po rituál
V rámci přednášky se seznámíte se základními psychedeliky a mechanismy jejich účinku. Ve třech blocích bude představen moderní vědecký výzkum, dále potenciál psychedelik pro využití v terapii a nakonec i jejich narůstající undergroundové užívání v rituálním kontextu. Zdůrazněny budou i rizika a nebezpečí, které se s užíváním psychedelik pojí. Na závěr bude prostor pro diskuzi.
Eva Césarová & Lucie Havlínová
Sex magic
Žití v páru je základním zdrojem radosti a nebo trápení pro většinu žen a lidí vůbec. Společně budeme společně do hloubky zkoumat, jak můžeme lépe a s větší radostí žít v páru a sdílet opravdovou, hlubokou intimitu s dalším člověkem. Prozkoumáme téma polarit, mužského a ženského aspektu a jak mohou nejlépe tančit spolu tak, aby vytvářely co nejhezčí konstalace. Od vědomé komunikace přes minové pole emancipace, k tématům dlouhodobého společného žití, dětí a zdánlivého konfliktu mezi rodinou a posláním... Společně se "prokousáme" hravě a s vášní těmi nejzákeřnějšími tématy, která kolem vztahu potkáváme. Jak z praktického soužití ve dvou udělat posvátny tanec vesmírných protipólů? Zaměříme se přímo a velmi konkrétně na nejžhavější oblast našich intimních vztahů - na sexualitu. Podíváme se společně na to, jak si rozšířit za povrchní představu sexuality, která nám je dnešní společností prezentována. Podíváme se na subtilnější roviny intimního spojení, na nejčastější chyby dnešní uspěchané doby a na praktické nápady, inspirace a cvičení k tomu, aby se náš intimní život mohl posunout na novou rovinu. A především si řekneme, jak do této roviny pozvat svého partnera.
Lilia Khousnoutdinová
Mozek nejste vy
Mentální disciplína je metodika, jak změnit naše myšlení a naučené vzorce, které nás brzdí, nebo dokonce škodí v našem rozvoji. O čem přemýšlíme, to se nám děje, co vyzařujeme, to přijímáme. Záleží na tom, co dovolíme našemu mozku, aby nám předkládal. Zkuste si představit, že mozek nejste vy, že je to pouze nástroj, který plní vaše zadání, které mu pošlete z vašeho vědomí a tím ovlivňujete svou realitu.
Matěj Richter a David Bongo
Propojení srdce a mysli člověka 21. století
Žijeme v kritické době. Lidé jsou rozděleni, narůstají konflikty, svět se z více směrů řítí do záhuby. Co můžeme udělat? Schopnost propojení srdce a intuice s racionálním myšlením považuji za obrovský synergický potenciál každého člověka a podmínku nutnou k tomu, abychom se dokázali jako lidé více sjednotit a s více vzájemné důvěry a spolupráce nastoupili cestu obnovy a Humanity 21. (století).
Mgr. Karel Janeček, MBA, Ph.D.
Jak být zamilovaní i po 20 letech?
Je láska a vášeň v dlouhodobém vztahu utopie? Co dělat, aby se z milenců nestali v lepším případě kamarádi? Téměř polovina manželství se rozvádí během 3-5 let od uzavření sňatku. Zdaleka se nejedná jen o partnery, kteří si "špatně vybrali". Zatímco nás školy rozvíjely ve šprtání a dosahování výsledků, chybí nám inspirace k tomu, jak vypadá vztah, který je dlouhodobě plný štěstí, lásky a vášně. Podělím se s vámi o znalosti a zkušenosti, které zachraňují manželství a oživují pocit zamilovanosti i po letech vztahové rutiny: - Jak udržet vztah dlouhodobě plný úcty, lásky i vášně? - Jak přinést co největší inspiraci pro své děti? - Sex: jak to udělat, aby byl zajímavý a vyživující i po 20 letech?
Denisa Říha Palečková
Lůno ženy ožívá
Přednáška s praktickými tipy, triky, cviky, ukázkou
Lůno ženy je posvátné. Dokáže o nás tolik vypovědět. Velmi často je také zraněné nebo neopečované, vyprahlé, nevyživené, a tak ženám chybí prožívání životní radosti, harmonie, zdravé sexuality i tvořivosti ženské duše. Povíme si o tom, jak naše lůno vypadá a co se v něm skrývá za emoce i energii. Propojíte se se svým lůnem a zjistíte, jak na tom aktuálně jste. Dozvíte se spoustu důležitých informací, jak o své lůno pečovat, jak se s ním propojovat, jak skrze lůno komunikovat a spoustu dalšího. Těším se na vás.
Taraka Solei
Jak žít své sny
Co je základem pro to, abychom do svého života přitáhli to, po čem toužíme? Jak vůbec objevit, po čem OPRAVDU toužíme? Co jsou hluboká přání našeho srdce a duše? Jak rozpustit limitující přesvědčení? Jak manifestovat s lehkostí? V programu Tě provedu vysvětlením i prožitkem, díky kterým získáš větší jasnost ohledně svých snů, darů, směrování a vědomé tvorby vlastního života. Získáš pochopení a prožitek, které Tě ukotví v sobě a pomohou Ti k prožitku zázraků v Tvém životě.
Denisa Říha Palečková
Cesta Podvědomí
To, co je uloženo v našem podvědomí, má vliv na naši budoucnost. Je tedy potřeba do něj umět vstupovat, tvořit a přetvářet staré vzorce a principy chování. V podvědomí najdeme spousty odpovědí na naše otázky: Jak se k sobě chováme? Co vyzařujeme? Co nám ještě brání v tom, abychom žili život, který skutečně chceme. Proto je důležité se starat o naše podvědomí stejně dobře, jako se staráme o naše fyzické tělo. Co se naučíte: Jak vstupovat a tvořit v podvědomí. Jak si v podvědomí vytvořit bezpečný prostor. Jakým způsobem uplatnit energetickou obranu a ochranu při práci s lidmi.
Matěj Richter a David Bongo
Jak v sobě odkrýt zdroj naplnění a lásky?
Jak se jako žena se ukotvit v sobě. Uvolnit se. Naladit se na sebe. Prožít spočinutí v sobě s láskou a respektem ke svým poctiům a potřebám. Najít "domov" v sobě a svém těle. Jak být magnetem pro to, co v životě potřebuji. Jak s láskou vnímat své pocity a potřeby. Jak zářit a být přitažlivá.
Denisa Říha Palečková
Partnerská komunikace s dětmi
Než se nám narodí děti, často přesně víme, co chceme, co nechceme, jak se budeme chovat. Každá situace, kterou rodičovství přináší nás může velmi snadno dostat do kolen právě proto, že naše iluze a reálné jednání se třeba ani neslučují. Abychom byly dětem skutečnými partnery, je třeba znát nejen efektivní nástroje komunikace s nimi. Ale vnímat i to, co stojí na naším jednáním. Jsou to vzorce chování, nezpracované emoce, situace v rodině, práci.. I ten sebe víc vědomý rodič může mít zkrátka co dělat, aby komunikoval s dětmi právě tak, jak si vždy přál. Společně se podíváme na to, jak se vyvíjí dětský mozek a proč je důležité ho udržovat v pocitu bezpečí. Také na to, že to není chování dětí, ale situace, co nás skutečně trápí.
Renata Pelcová
Druhá strana mince šamanské medicíny
S přístupněním medicíny u indiánů se nám tu rozjel takový nešvar. Medicína nás mnohé posunula, uzdravila a pomohla udělat kroky na cestě k sobě, ale jako každý nástroj nás něčím spoutala, jak závislostí, tak i vedlejšími účinky špatnou aplikací, či někým kdo ceremonii vedl. Medicína není jen dar, ale může být i nepříjemný zmar, co nás může kompletně rozebrat a ublížit nejen nám, ale i okolí. Je třeba přistupovat s respektem k duchu medicíny, ale i k sobě. To kolikrát kdo čím prošel není známka jeho zralosti a ukotvenosti, ale mnohdy důkazem bloudění a odevzdání své skutečné síly jinam.
Jaroslav Šumbera
Vědomé podnikání
Podnikáte nebo se chystáte svůj koníček přehoupnout na smysluplné podnikání? Na přednášce se zamyslíme se nad tím, zda děláme skutečně to, co milujeme a co nás naplňuje. Podíváme se na naše podnikání a na to, co může být příčinou nestability firmy nebo vyhoření managera či zaměstnance. Objasníme si principy harmonie vědomého podnikatele a obohatíme své podnikání o chybějící prvky. Předáme pár praktických rad pro ty, kteří již podnikají a chtějí svůj byznys budovat silný a se stabilním výkonem. Připravte si otázky, jak své podnikání posunout dál. Jak komunikovat se zaměstnanci nebo jak si je vybírat. Jak si nastavit vnitřní procesy tak, abyste svoji firmu ovládali vy a nikoli ona vás. Staňte se Vědomým podnikatelem 😊
Tomáš Suchomel a Pavlína Vejmolová
Znovuzrození a smrt
Přednáška s přesahem do vědomí
Znovuzrození a Smrt - téma, na které se společně budeme ladit, do kterého se společně ponoříme a ve kterém se společně najdeme. Zrození do svobodného žití sebe samých, kde strach nemá šanci vyhrát nad láskou, neb láska je počátkem zrození všeho. Abychom mohli plně žít svůj život, svůj potenciál, sebe sama, je potřeba se podívat do očí svému strachu ze smrti, z vlastní smrtelnosti, z konce. Protože bez konce není začátek a bez začátku by nebyl ani konec.
Taraka Solei
Cesta ke štěstí
Přednáška s hraním na kytaru
Šťastný život na této planetě je neodmyslitelně spojen se 4 základními faktory: naším tělem, emocemi, pohledem dovnitř a pohledem ven. Vděčnost je klíčem ke štěstí, ale k vděčnosti potřebujeme pozornost, abychom viděli a cítili, za co můžeme být vděční. Pozoruj a staneš se šťastným!
Matěj Richter
4 úrovně sebelásky
Poznej sebe sama ještě více do hloubky a najdi způsob, jak dosycovat a léčit to, co potřebuješ. V úrovni sebeléčení, můžeme rozdělit své nitro na 4 části. Vnitřní dítě, dospívajícího, dospělého a vyšší vědomí. Každá rovina nese propojení s vývojovou etapou v našem životě a pomůže nám se podívat, kde potřebujeme péči, podle toho, co se odehrálo v našem životě. Obsahuje toho velice hodně, od poznání těla, emocí, směru, vnitřní moudrosti. Je to systém, který nám pomůže se zorientovat v sobě a najít nástroje, jak případně dosytit ty části, které potřebují péči. Společný čas zakončíme meditací, který nám pomůže více poznat, jak na tom tyto části jsou a co potřebují.
Anna Vašinová
Voda, klíč ke zdraví.
Nahlédnete se mnou na mnohá tajemství vody a její vliv na lidské tělo, včetně myšlení a vědomí. Dozvíte se celistvé informace o kvalitě vody, její struktuře a vlivu na životní prostředí. Podělím se s vámi o mé zážitky z klinických smrtí a zničující onemocnění, které mě přivedlo k zájmu o lidské zdraví, výživu a vodu. V neposlední řadě vás seznámím s tématem týkající se energie vody a jejího čtvrtého skupenství, které je základem pro život, a o kterém se moc nemluví. Rád se s vámi také podělím o možných způsobech uzdravování vody, to vše doplněno příklady z mé dlouholeté praxe a výzkumů v přírodním i laboratorním prostředí.
Zdeněk Čermák
Laskavé umírání
Umírání je stále velké tabu. Smrt je fenomén vyvolávající strach. Co když se na smrt a umírání začnu dívat jinak? Co když má smrt své neměnné fáze stejně jako porod? Co když ty fáze mohu ovlivnit tím, jaký život žiju právě teď? Co když se smrti mohu přestat bát? Všechno to je možné, protože smrt je ta nejlaskavější mateřská energie, jakou jsem kdy zažila. Těším se na vás.
Vendula Kociánová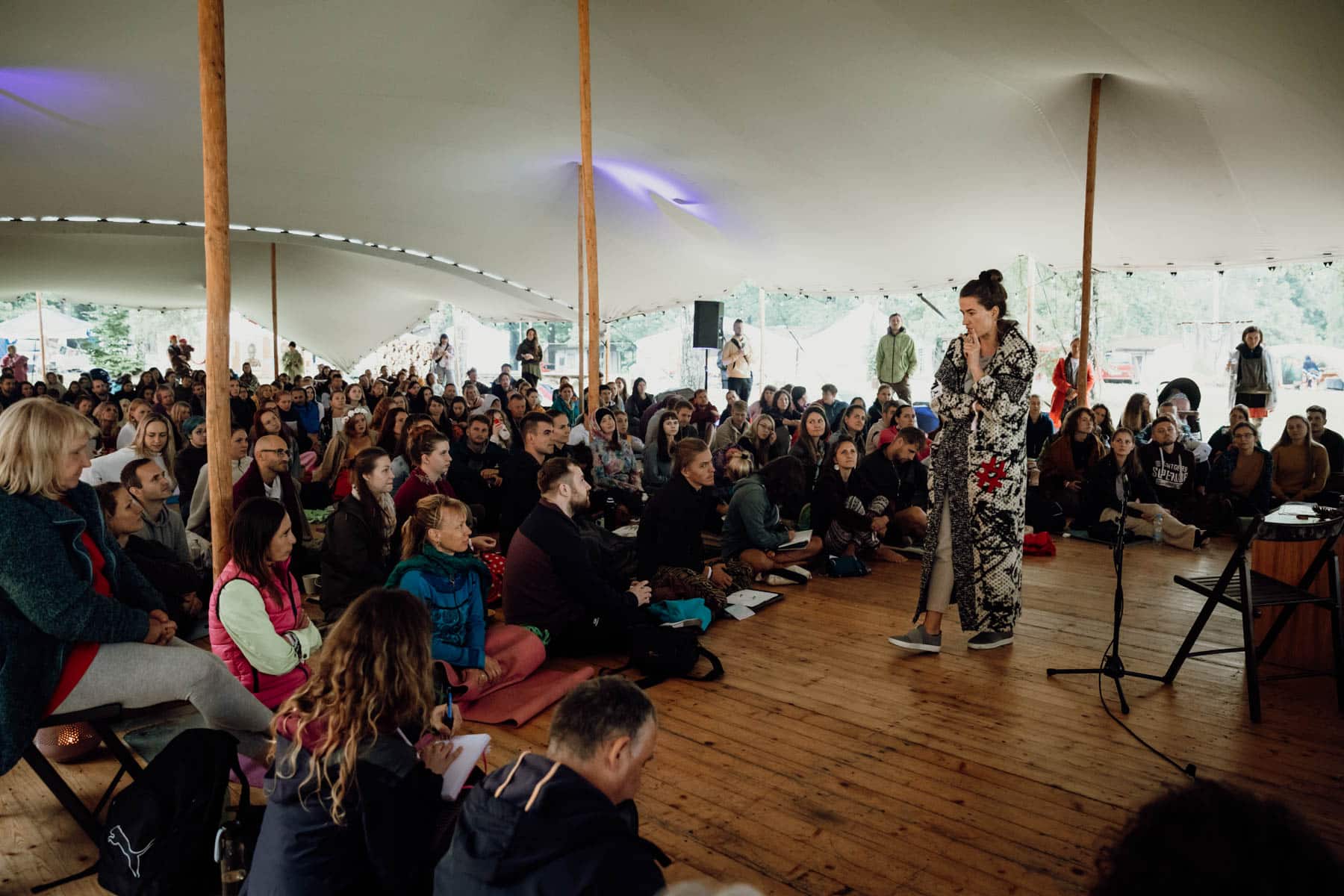 Pseudokazatel a Pseudobohyně
Vývoj našeho vnitřního božství má své fáze. Stejně tak jako u typů vztahů máme však tendence ulpívat na některých z fází, že jsou to nejlepší, co nás potkalo. Vlivem ulpívání se nám následně začíná hroutit hmotná realita, pracovní úspěchy, vztahy a v neposlední řadě zdraví. Iluze a touha si ji udržet nás udržuje v nezdravých mezích a vzorcích. Jaké jsou fáze vývoje našeho vnitřního božství? Kde se nejčastěji zasekáváme? Jakou iluzi si hýčkáme a na následky toho trpíme ve všech životních oblastech?
Vendula Kociánová
Od bratrství k otcovství
Být tátou je role, která do značné míry formuje naši společnost. Přesto k ní většina mužů nemá žádnou přípravu. V jejím průběhu se situace často nezlepšuje a nedochází ke sdílení zkušeností a výzev, která tato role obnáší. Jaké by to ale bylo, kdybychom sdíleli, co nás jako otce trápí? Nejen v oblastech, jako je sexualita, vztahy, vedení a vnitřní práce? Přijď to zjistit na tento funkční workshop, kdy na vlastní kůži zjistíš, že v tom nejsi sám a odneseš si sílu a moudrost na cestu dál.
Ron Aira
Posvátná celistvost srdce
Vždy, když se srdce otevře dalšímu a dalšímu kousku své celistvosti, cítíš nejen velkou úlevu, ale Tvůj život je plnější, skutečnější, mnohem pestřejší. CÍTÍŠ SKUTEČNOU LÁSKU. Části Tvého srdce, které svírá strach a zranění, jakoby zavíraly dveře před celými částmi plného sytého života, který nám byl vyšší moudrostí nadělen. Užijeme si nádhernou cestu k celistvosti Tvého srdce, kterou prožiješ nejen na workshopu, ale i kdykoliv potom v životě: na skutečné cestě Tvého osobního příběhu.
Tomáš Michal a Michaela Adamová
Noční snění jako přirozená součást života
Snění je přirozenou součástí a projevem života, podobně jako instinkty a intuice. Naučte se mu naslouchat, pracovat s ním a využít jeho potenciál a možnosti.
Petr Sax
Komunikace s neviditelným světem
V rámci interaktivní přednášky ti zprostředkujeme zážitek komunikace s různými druhy bytostí. Za doprovodu hudby handpanu a bubnu se můžeš propojit s esencí něčeho, co je možné popsat jako jiná dimenze reality, šamanský svět, paralelní vesmír či fantazie. Na úvod posdílíme naše zkušenosti s channelingem a to, jak nás ovlivnila socha, která vedla k sepsání knihy "Sirius-strážce brány". Chystáme se otevřít velké škále silných energií, které nemusí být jen příjemné. Proto plánujeme na závěr uzemňující pohybové aktivity a propojení se Zemí skrze tělo.
Kateřina Rae a Karel Báťa
3 kroky vědomé komunikace
Na přednášce se dozvíte, jak vědomě komunikovat s druhými lidmi pomocí typologie Mentální jazyky, která vám pomůže především v partnerství. Řeknu vám, které kroky nejčastěji vynecháváme a na co nesmíme zapomínat, abychom žili v harmonickém vztahu s druhými lidmi a partnerem.
Alexandra Polarczyk
Vzhůru zpět k přirozenosti v biologii lidství
Ještě nikdy jsme nežili v době, jako ta dnešní. Fascinující poznání, které nabízí moderní způsob života, věda, technologie, ale i vědomí starodávných civilizací, je něco, co mě osobně vhání krev do žil. Moje mise je vychytávat praktické a funkční systémy zlepšující kvalitu života v moderním Světě. A to právě v symbióze s co největší silou zdraví fyzického, psychického a duševního. Primárně mě baví téma dlouhověkosti a lidské biologie, implementované do dnešní doby. Principy co možná nejjednodušší a s velkým zdravotním efektem na naše každodenní prožívání reality.
Jan Vojtěchovský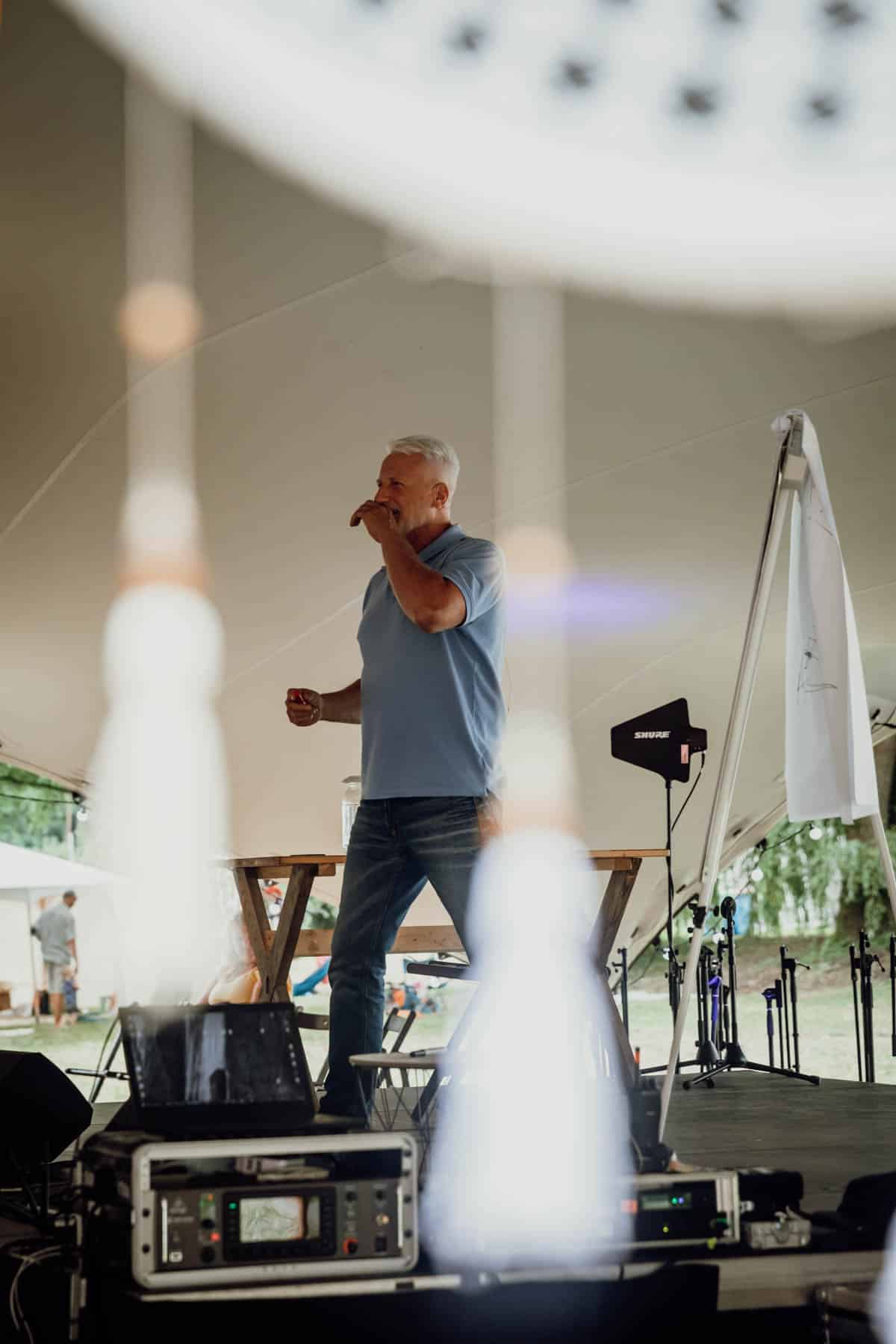 "0" jako nejsilnější číslo
Pronikněte do tajemství harmonie našich subjektivních světů…
Marian Jelínek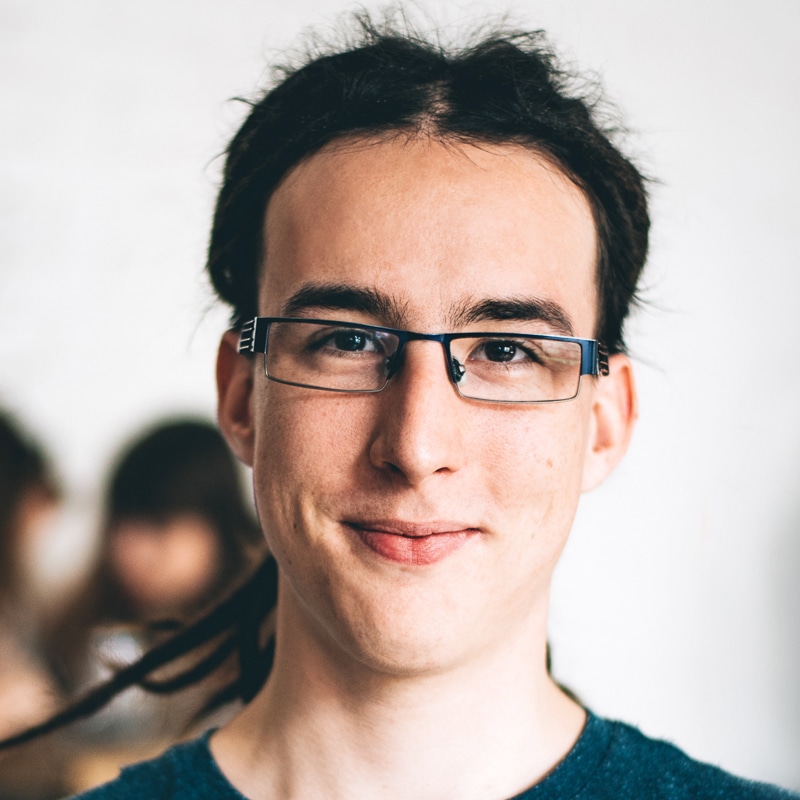 Skrytá tajemství dlouhověkosti
Jak se dožít vysokého věku v plném zdraví? Věda se poslední roky dlouhověkostí intenzivně zabývá a přednáška vám představí nejnovější poznatky. Už dopředu prozradím, že klíč k úspěchu je v dlouhodobých zdravých návycích – ukážu vám, které to jsou, i jak je tvořit a udržet. Nastíním ale i některé z pokročilejších návyků a slibné studie, doplňky, "hacky" a technologie, které se na veřejnost teprve chystají.
Matouš Vinš
Holistická péče o vlasy
O přirozené péči o vlasy včetně příčin vlasových problémů. Jak o vlasy pečovat, aby byly naší korunou.
Žaneta Florová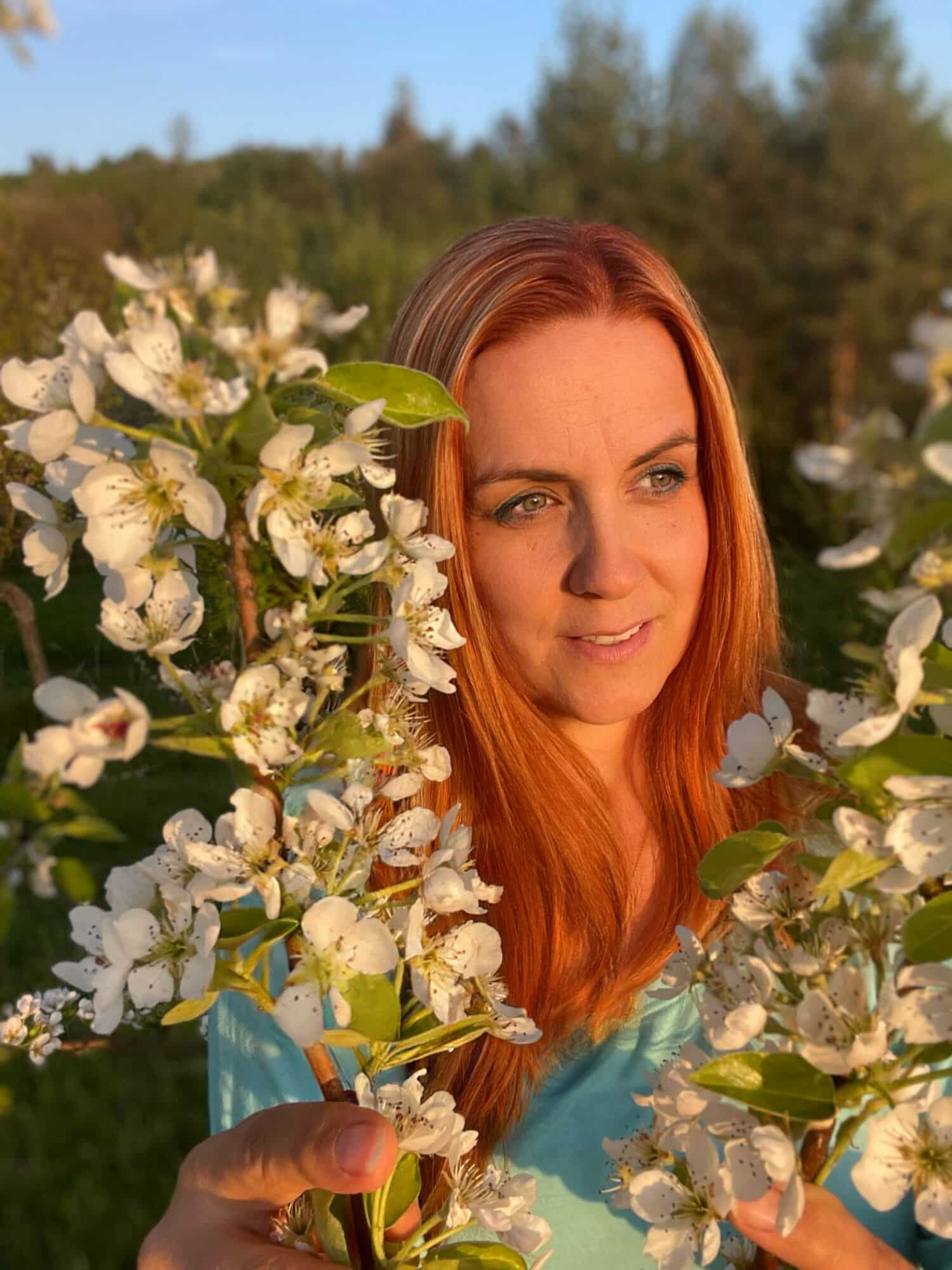 Návrat k soběstačnosti a posvátné půdě
Budeme mluvit o tom, jak je možné zvýšit svou potravinovou soběstačnost a co je pro ni zásadní. Kolik k tomu potřebujeme půdy, jak zvýšit výnos při zachování přírodních principů pěstování vlastního jídla. Bude prostor i pro Vaše otázky.
Lenka Eywa
Esenciální oleje a duchovní rozvoj
Mohou nám esenciální oleje pomoci v našem duchovním rozvoji? Dlouhá a krátká stezka duchovního poznání. Mentalismus jako klíč k pochopení Vesmíru. Čas, prostor, Vědomí, Mysl, já, ego, vyšší já, Nadjá. Intuice. Iluze a Pravda. Čtyřnásobná stezka sebepoznání. Skrytá nauka za Jógou. Paradox života. Duchovní význam snu. Otevření duchovního srdce. Smysl života.
Jiří Černota
Návrat k hmotě: 5 elementů v životním prostoru
Na tomto workshope sa dozviete, akú úlohu hrá 5 elementov vo vašom každodennom živote. Predstavím vám koncept kontinua elementov, naučíte sa ako transmutovať ich liečivú a podporujúcu energiu a ktorý z nich aktivovať podľa svojej aktuálnej potreby.
Michaela Růžičková (SK)
5 elementů božského podnikání
5 základních elementů podnikání, díky kterým můžeme podnikat v souladu se naší duší, v lehkosti a hojnosti. Naučím tě, jak využít tvůj potenciál mámy a aktivovat tvůj plán duše a stát se opravdu božskou podnikatelkou. My ženy často na sebe tlačíme: "Už bych měla vydělávat xyz, už bych měla být úspěšná..." ale čím víc to děláme, tím víc to od sebe odháníme. Mateřství mě naučilo, co je třeba (ne)dělat pro podnikani bez tlaku, v plynutí, radosti a lehkosti. Jak jednoduše využít vnitřní síly, napojit se na božský portál pro tvoření podnikání nové doby.
Zuzzi Husarová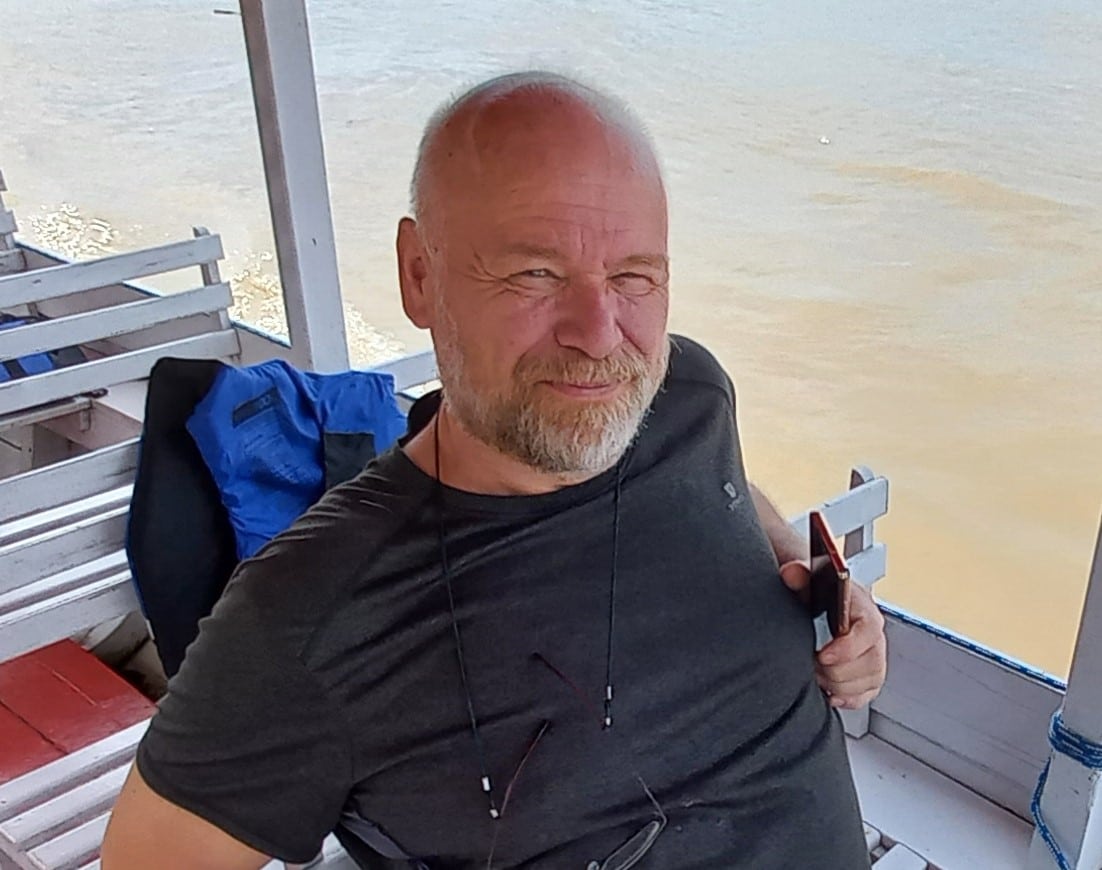 Komunikací k poznání sebe a druhých
Neboť jsem pozorovatel, že lidé vůbec nemluví…nepředvádějí z mysli do mysli věci nebo smysl věcí, nýbrž, že mezi sebou vyměňují slova nepochopená nebo pochopená málo a nesprávně…mluvíme slova ne věci – tj. slovné slupky, ne jádro představ. (J.A.Komenský) Uplynulo 400 let a tento stav zůstává žel z většiny nezměněn. Říkala to i liška malému princi: "Řeč je pramenem nedorozumění". (A.S. Exupery) Zkusíme tento stav společně vylepšit. Minule jsme mluvili zeširoka o tom, jak na "partnerství na celý život". Byl jsem příjemně překvapen, kolik lidí má dnes ještě o trvalé, dlouhodobé, šťastné partnerství zájem. Proto jsem se rozhodl více se zaměřit na jeden zcela praktický nástroj k manželskému štěstí. A jím je umění komunikace. Tato dovednost má počátky v "rozumět sobě", umění sebevyjadřování, umění naslouchání a umění dialogu. O tom všem a o technikách komunikace si budeme spolu povídat. A bude-li zájem a odvaha můžeme si některou techniku prakticky vyzkoušet.
Miroslav Dvořák
Dechová cvičení
Přijďte se rozcvičit před chladovou terapií! Naučíte se cvičení, které používám před výstupy na zimní Sněžku v kraťasech. Tato dechová cvičení jsou výsledkem mnoha let zkušeností s práci s lidským organismem v různých přírodních podmínkách a dokážou pomoci v průběhu každodenních být lepší verzi sebe sama.
Libor Mattuš
Chladová terapie
Je nejlepší přítel člověka. Pojďte na vlastní kůži zažít, proč to tak je. Proud endorfinů, lepší nálada a chuť do života, lepší soustředění a dokonce motorika vám pomohou si zbytek dne užít ne na 100, ale 120%.
Libor Mattuš
Uvolnění se a vyživení ve vodě
Každý z nás se rodí s určitými kvalitami, které je třeba v životě vnímat. Pokud v nás tyto kvality nejsou z nějakého důvodu zakořeněné, máme tendenci je hledat od druhých a často děláme věci, které ani nechceme. Proto nám poznání těchto kvalit a nalezení způsobů, jak je v životě kultivovat, může pomoci v tom, žít ve své síle a plnosti.
Anna Vašinová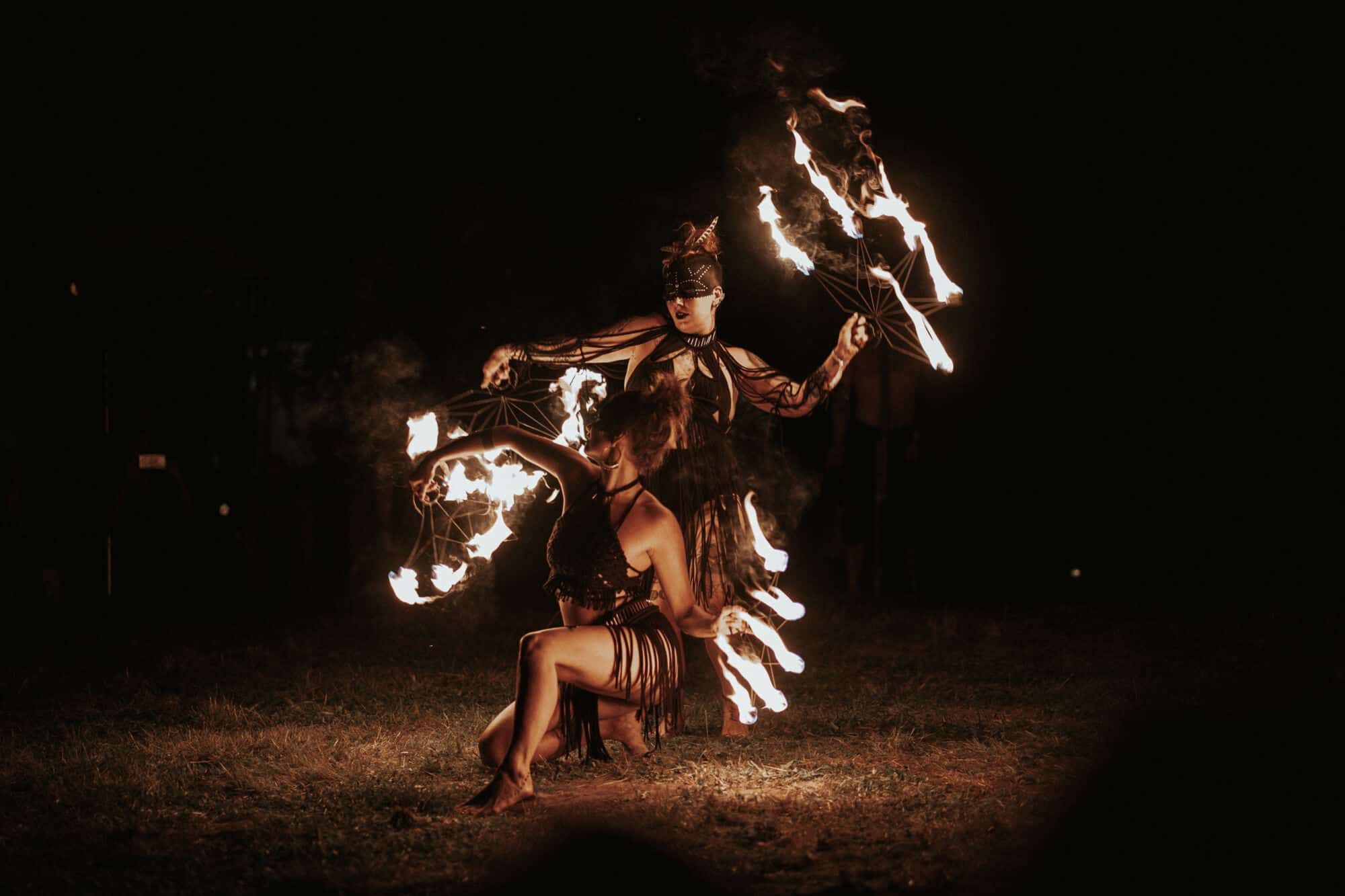 FireShow
Mystica Dance Fire Show of four performers: Ethea, Adeline, Boris and Caroline.
Mystica
obnaŽENA
Každý večer uvidíš jednu. Jednou bude přitažlivá, pak vzteklá nebo unavená. A pak zas plná energie. Budeš mít příležitost prožít si všechny fáze ženského cyklu - intenzivně, na vlastní kůži, do hloubky. A zjistíš, že každá fáze má něco do sebe 🙂 Uvidíš ukázky z představení obnaŽENA v podání autorky & akrobatky Ivany. Na plnou verzi i s živou hudbou, zpěvačkou, tanečnicí a herečkou se můžeš těšit na podzim v divadle.
Ivana Kolcunová
Workshop vzdušné akrobacie - i tvoje tělo může létat
Jaké to asi je, když se tvoje tělo vznáší? Pojď si to vyzkoušet a posunout svou hranici možného a nemožného. Budeš se houpat nad zemí, podíváš se na svět vzhůru nohama, zažiješ spoustu zábavy a nejspíš i úplně nové tělesné pocity. "Šálu" si můžeš vyzkoušet bez ohledu na dosavadní sportovně-akrobatické zkušenosti!
Ivana Kolcunová
Access Bars ochutnávky
Srdečně Vás zveme na ochutnávku sezení Access Bars. Jaké by to bylo pustit do svého bytí uvolnění a klid? Access Bars je jedinečná metoda léčivého jemného doteku 32 bodů na hlavě. Během sezení se uvolňují programy, přesvědčení a omezení, které nám brání v radostném, klidném bytí plném lehkosti. Přijďte si lehnout na lehátko, dát si relax a přijímat vše, co sezení přinese.
Kateřina Grunová & Simona Hrabalová
Kamenný labyrint
Labyrint je cesta do našeho nitra, skrze chaos a zatáčky, neomylně do vlastního středu. Přijďte si pro rozjímání, hledání smyslu, setkání se sebou samým. Nemůžete sejít z cesty, jste vedeni jeho linií. Labyrint je zároveň výtvarný projekt nás všech. Vezměte čistý kámen z labyrintu a pomalujte jej nebo na něj napište své poselství. Jděte labyrintem a přijměte zprávu, kterou tam zanechal někdo před vámi. Na konci festivalu se vraťte a odneste si kámen z něj jako připomínku toho, co jste zde prožili.
Žaneta Florová
Acro Yoga
Vlaďka a Renka tu budou pro vás, aby začínající acro jogíny provedly záklaními technikami a inspirovaly ty pokročilé.
Vladimíra Krochmalová & Renka Vélová
The Satya Loka Ganesh Sadhana Tippee
The Satya Loka Ganesh Sadhana Tippee
Satya Loka offers a sacred Temple space for sadhana & devotion through the festival, for you to come and meditate, sing, or pray in silence. There will be a constant flame alight on a Yantra/Sacred Mandala that we create on the first day of the festival. The Yantra is that of Ganesh, a fundamental divine energy known in India and Thailand, that helps us to remove obstacles in our life and spiritual path. The practices and knowledge that you will experience are ancient tools of Traditional Tantra, coming from Satya Loka's lineage of Shivoham Tantra.
Ra Dasi (ENG/GRC)
Creation of a Ganesh Yantra
Creation of a Ganesh Yantra using coloured rice and a special ritual process from India. This session also includes the charging of the yantra using mantras to invite the energy of Ganapataye, and a final offering of flowers once the energy arrives.
Ra Dasi (ENG/GRC)
Meditation
Each day we offer two 1 hr sittings of mediation with the teachers, so you can be supported in Mantra Meditation. If you are new to the practice or happen to join late, then visit 20 minutes before sessions to receive the mantra and guidelines.
Ra Dasi (ENG/GRC)
Aarti
Each day we make a devotional Aarti with offerings and singing to the energy/Yantra of Ganesh for 30 minutes after the meditation.
Ra Dasi (ENG/GRC)
Silent sitting
Satya Loka offers a sacred Temple space for sadhana & devotion through the festival. There will be a constant flame alight on a Yantra/Sacred Mandala that we create on the first day of the festival. The Yantra is that of Ganesh, a fundamental divine energy known in India and Thailand, that helps us to remove obstacles in our life and spiritual path.
Ra Dasi (ENG/GRC)
Fire Ceremony for Ganesh - Tantrik Yagna
A fire ceremony that welcomes everyone, and is a part of the complete Tantra Sadhana process of Yantra. - Mantra. - Yagna. - Kriya happening at the Satya Loka Temple space during the whole festival. This fire ceremony will be an opportunity to give offerings to the fire, and to speak with the fire through pray and observation.
Ra Dasi (ENG/GRC)
Dissolving the Yantra & Yagna fire ceremony
Dissolving the Yantra of Ganesh with offerings, prayer and song, followed by a short Yagna fire ceremony to close the energy.
Ra Dasi (ENG/GRC)